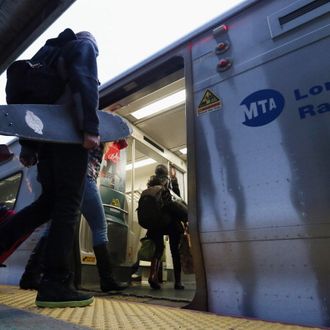 Photo: Bruce Bennett/Getty
An unnamed man and woman, both 29, died after being struck by a train around 200 feet from the Hollis, Queens, Long Island Railroad station at 2:45 a.m. on Thursday. According to the NYPD, the pair was trespassing on the tracks, which, according to people familiar with the spot, is disturbingly normal.
"There should be cops placed up there. It is easy to get to and it's isolated. People are always up there all hours of the night. I'm not surprised it happened," one regular LIRR commuter told the New York Post. "At nights the trains are silent and they are quick so you really don't have time to spin around. You are gonna get hurt." Meanwhile, an area resident confirmed that "this location is known to have kids playing on the tracks all the time" while another said "stuff like this happens all the time over here," citing the frequent presence of "kids" on the tracks and a couple who committed suicide near the Hollis platform in 2013. Be careful out there.