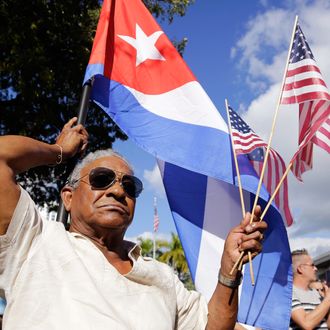 Photo: Lynne Sladky/Corbis
The United States and Cuba plan to restart diplomatic relations officially this month; embassies in Washington, D.C., and Havana are scheduled to reopen on or after July 20.
"The progress we make today is another demonstration we don't have to be imprisoned by the past," Obama said in brief remarks on Wednesday.
President Obama announced last December that he wanted to thaw tensions between the two countries. The embassy in Havana hasn't been open since the early '60s, when President Eisenhower broke off diplomatic ties — the embassy had been occupied by an ambassador for less than a decade.
In D.C., Cuba has been preparing for the big day for the past few months, while negotiations between the two countries were still ongoing. The driveway in front of Cuba's "interests section" has been repaved, and a new flagpole was installed. Secretary of State John Kerry plans to go to the embassy opening in Havana. 
After the embassies open, the White House hopes Congress will get rid of some of the travel and business restrictions on the country. Senator Jeff Flake has sponsored legislation that would lift travel restrictions; according to The Wall Street Journal, the bill has 45 co-sponsors. Senator Amy Klobuchar has a bill that would deal with trade restrictions.
Congress will also have 15 days to review the embassy reopening plan before things become official.
The only countries left that the United States has no diplomatic ties with are Bhutan, Iran, and North Korea. In May, the Obama administration took Cuba off the list of states sponsoring terrorism — while also acknowledging that Cuba still has to make some improvements on the human-rights front. President Obama met President Raul Castro in April — the first time that U.S. and Cuban leaders had met in more than five decades. White House staffers have signaled that Obama plans to travel to Cuba before his presidency is done.
Improving relations with Cuba has been on President Obama's to-do list for a long time. At a fund-raiser in Miami in 2013, the president explained his reasoning.
Now, I think we all understand that, ultimately, freedom in Cuba will come because of extraordinary activists and the incredible courage of folks like we see here today.  But the United States can help.  And we have to be creative.  And we have to be thoughtful.  And we have to continue to update our policies.  Keep in mind that when Castro came to power, I was just born.  So the notion that the same policies that we put in place in 1961 would somehow still be as effective as they are today in the age of the Internet and Google and world travel doesn't make sense.
In the predictable-political-reactions department, Democratic presidential candidates have mostly given today's news a thumbs-up, while Republican presidential candidates have criticized the Obama administration's decision.