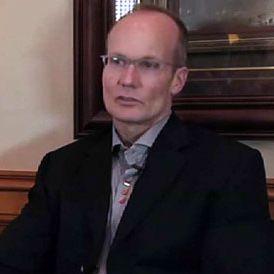 It's been two days since Dr. Walter Palmer was identified as the killer of a protected Zimbabwean lion named Cecil, and things are only getting worse for the Minnesota dentist. The New York Times reports that Palmer's Bloomington office has been closed since at least Tuesday, which hasn't stopped angry animal lovers from showing up to protest his actions with megaphones and a makeshift memorial to Cecil. Now the United States government has gotten involved in the situation.
"The U.S. Fish & Wildlife Service is investigating the circumstances surrounding the killing of 'Cecil the lion,'" an agency official told BuzzFeed. "That investigation will take us wherever the facts lead. At this point in time, however, multiple efforts to contact Dr. Walter Palmer have been unsuccessful. We ask that Dr. Palmer or his representative contact us immediately." The authorities in Zimbabwe are seeking to question Palmer. The two  Zimbabweans who enabled Palmer's hunt have already been arrested on poaching charges and released on bail.
Meanwhile, local Fox affiliate KMSP has published an email sent to Palmer's dental patients on Tuesday night. "As you may have already heard, I have been in the news over the last few days for reasons that have nothing to do with my profession or the care I provide for you. I want you to know of this situation and my involvement," wrote Palmer, who went on to reiterate his claim that he was unaware that hunting Cecil was illegal. He concluded with yet another apology:
The media interest in this matter – along with a substantial number of comments and calls from people who are angered by this situation and by the practice of hunting in general – has disrupted our business and our ability to see our patients. For that disruption, I apologize profoundly for this inconvenience and promise you that we will do our best to resume normal operations as soon as possible. We are working to have patients with immediate needs referred to other dentists and will keep you informed of any additional developments.
On the bright side, it's a great day for the dentophobes of suburban Minneapolis.