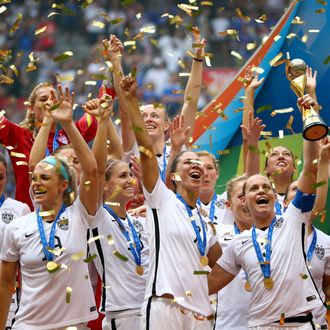 The U.S. Women's National Team, after their World Cup victory on Sunday.
Photo: Ronald Martinez/Getty Images
The U.S. Women's National Team's victory over Japan in the final of the World Cup on Sunday kicked off a party on the field at BC Place in Vancouver, and now they'll get another chance to celebrate the win — this time in New York. Mayor de Blasio announced today the team will be honored with a ticker-tape parade down lower Manhattan's Canyon of Heroes. The parade will begin Friday at 11 a.m.
The mayor tweeted the news this afternoon:
These days, such parades are mostly reserved for local sports teams that win a league championship, but that hasn't always been the case. Olympic medalists got a parade in 1984, Sammy Sosa got one in 1998, and numerous non-sports figures have been honored as well. The USWNT is the first women's sports team to get their own parade down the Canyon of Heroes.
In a letter to Mayor de Blasio suggesting the parade, Manhattan Borough President Gale Brewer wrote that the team "set an amazing example for athletes across our great nation," adding that "Our newest soccer champions represent an opportunity for New York to recognize that heroes and role models come in all genders."
This post has been updated to include the official announcement of the parade.