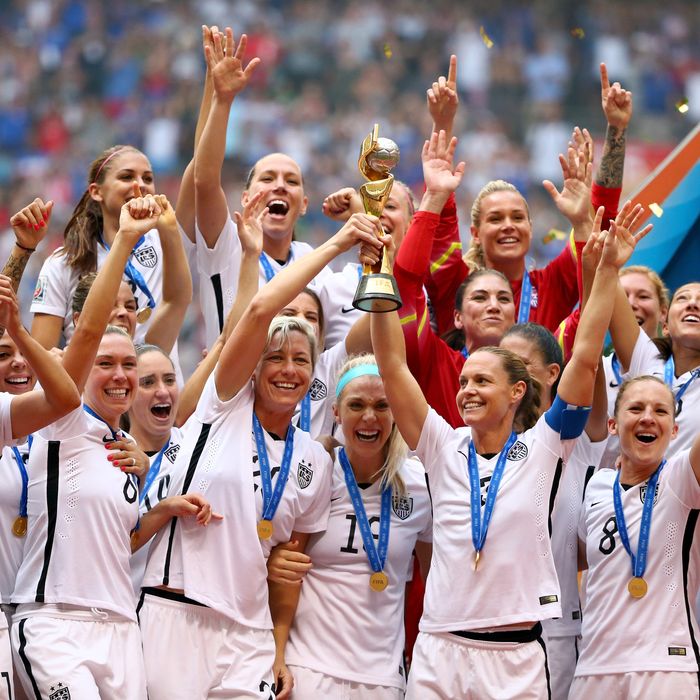 Abby Wambach #20 and Christie Rampone #3 of the United States of America hold the World Cup Trophy after their 5-2 win over Japan in the FIFA Women's World Cup Canada 2015 Final at BC Place Stadium on July 5, 2015 in Vancouver, Canada.
Photo: Ronald Martinez/2015 Getty Images
In a wild show of dominance, the U.S. Women's National Soccer Team picked apart Japan's defense for a 5–2 victory Sunday evening. The win marks the first World Cup title since 1999 for the women's squad, which played inspiring soccer and employed a stingy defense all tournament long. The U.S. also became the first team to win the tournament three times, and did so in front of a reported crowd of 53,341 at Vancouver's BC Place Stadium.
The game effectively ended within the first 16 minutes, after midfielder Carli Lloyd notched a light-speed hat trick (the fastest ever). She scored the quickest goal in a women's World Cup final (in the third minute), and helped her team build an unanswered 4–0 lead in the first half. Her last goal was a midfield dagger, which soared above the out-of-position Japanese goalkeeper Ayumi Kaihori to find the back of the net. "When you're feeling good mentally and physically, those plays are just instincts," Lloyd told reporters after the game. "It just happens." Although Japan would attempt to close the gap (with a nice strike and a lucky break off an American own goal), the U.S. ultimately held on, scoring one more goal to clinch victory. Lloyd won the Golden Ball for being the tourney's best player, and Hope Solo won the Golden Glove for being the best goalkeeper.
Here are Team USA's five goals; relive them in all their glory:
It was a proud day for the team, which made history, thanks to an overload of offensive pressure and coach Jill Ellis, whose strategic cunning transformed from gamble to ironclad game plan over the course of the last three matches. At the trophy presentation, Christie Rampone, the only remaining veteran from the 1999 team, lifted the hardware with the team's other long-standing leader Abby Wambach, who said this would be her last World Cup.
As in 1999, many are crediting this group of champs for helping to bring women's soccer into the mainstream. The New York Times notes that 16 years later, the conversation is focused more on the fact that the players are world-class athletes, not their gender. "They were the pioneers," Lloyd said of the '99 squad, after the game. "Now it's up to us to keep the tradition going, and in four years' time we want to be world champions again."