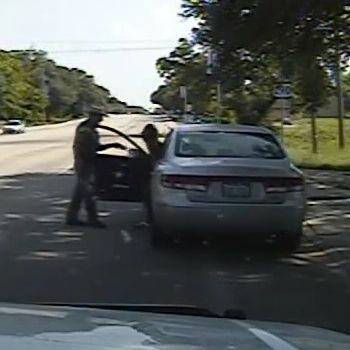 Still from video of Sandra Bland's arrest.
On July 10, Sandra Bland was arrested after failing to signal while changing lanes. Three days later, she was found hanged in a Texas jail cell and her death was ruled a suicide. Bland's story received national attention after her friends and family disputed that account, and bystander video surfaced of the 28-year-old African-American woman being restrained by officers. It was unclear how she wound up face down on the ground, but on Tuesday Waller County released dashboard footage that shows how the situation escalated from a verbal altercation to Trooper Brian Encinia pointing a stun gun at Bland and threatening to use it if she didn't get out of the car.
Several minutes into the 52-minute video, Bland is pulled over and Encinia tells her she was stopped for failing to signal. After checking her license and registration, he walks back to the driver's door and comments, "You seem very irritated." "I am, I really am," she says, explaining that she changed lanes because she was trying to get out of his way. "Are you done?" he asks. "You asked me what was wrong and I told you," she replies.
"You mind putting out your cigarette?" he asks. Bland testily asks why she has to put out her cigarette in her own car, and Encinia tells her to step out of the car. Bland says she doesn't have to, and the trooper opens her door. They argue over her rights; Encinia leans into the vehicle, telling her that if she doesn't comply, "I'm going to yank you out of here." Bland responds, "All right, let's do this," and tells Encinia not to touch her. They tussle for a few moments, and Encinia says she's under arrest. Then he steps back, points his Taser at Bland, and shouts, "Get out of the car," adding, "I will light you up."
Bland steps out and walks out of frame, cursing at Encinia and complaining that what he's doing is unlawful. They continue to argue, and at one point Bland says, "You just slammed me, knocked my head into the ground." She tells Encinia she has epilepsy and he replies, "Good."
When a female officer arrives on the scene, Encinia says Bland "started yanking away, then kicked me, so I took her straight to the ground." There's nothing about the Taser or the confrontation inside the car in the arrest affidavit, and Encinia describes Bland as "combative and uncooperative." He says she was handcuffed "for officer safety," but "began swinging her elbows at me and then kicked my right leg in the shin."
Video released on Tuesday appears to show that there was no activity outside Bland's cell for 90 minutes prior to her body being discovered. County officials said she was found in a "semi-standing position," hanging from a plastic trash-can liner hooked over a U-shaped piece of metal. The Harris County Institute of Forensic Sciences ruled that her death was from "self-inflicted asphyxiation."
Those who knew her said that's "unfathomable," since Bland had just moved from Illinois to accept a job at her alma mater, Prairie View A&M University, and was excited about the new position. In March Bland said in a video posted on Facebook that she was experiencing "a little bit of depression as well as PTSD," but according to the AP, one friend said she was just venting after a bad day, and her family says she was not mentally troubled.
Encinia, who's been on the job for about a year, was placed on administrative duty last week. "Regardless of the situation, the DPS state trooper has an obligation to exhibit professionalism and be courteous," said Texas Department of Public Safety director Steve McCraw. "That did not happen in this situation." Waller County district attorney Elton Mathis said this week that Bland's death is being treated "just as it would be in a murder investigation," and the FBI is supervising the Texas Rangers investigation.
Many are questioning the material released so far. While Texas officials said nothing about the video being edited, the L.A. Times notes there are clear jumps in the footage at several points, with cars disappearing and other portions of video repeating, but there's no corresponding break in the audio. The videos below, which were posted by journalist Ben Norton, show the same white car turn left twice as Encinia describes his injuries and how he tried to "deescalate" the situation.
Late Tuesday, the Texas Department of Public Safety said it was investigating the possible edits to the video. And on Wednesday morning a spokesman blamed the video irregularities on a "technical issue," not editing. He said the department was working to correct the issue and upload a new version of the video.