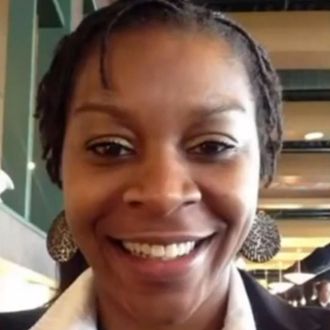 Last week, Sandra Bland was found hanged in a Texas jail cell three days after she was arrested during a traffic stop for allegedly assaulting a police officer. The 28-year-old's death was ruled a suicide, but her friends and family say they find that "unfathomable" since she had just moved from Chicago and was excited about starting her new job. Bland regularly spoke out on social media about police brutality and racial injustice, and those who knew her say they suspect foul play.
On Monday, Waller County officials released a three-hour video that appears to show there was no activity in the hallway outside Bland's cell for about 90 minutes prior to her body being discovered. Earlier on the morning of July 13, Bland refused a breakfast tray, told a jailer making her rounds that she was "fine," and asked how to make a phone call from her cell (though it appears she didn't place a call). According to the Associated Press, the video camera was motion-activated, and the hard drive has been handed over to the FBI to make sure it wasn't tampered with.
"This investigation is still being treated just as it would be a murder investigation," said Waller County District Attorney Elton Mathis. He said the case will likely be turned over to a grand jury next month.
The dashcam video, which shows an incomplete view of Bland's arrest, is expected to be released on Tuesday. Bland was pulled over for failing to signal, and authorities say she wound up on the ground after kicking the officer, though that is not shown on the recording. District Attorney Mathis noted that Bland was "very combative," adding, "It was not a model traffic stop … and it was not a model person that was stopped on a traffic stop." That's not really the best way to phrase things when, regardless of what happened in the cell, a woman tragically wound up dead after being stopped for a minor traffic violation.