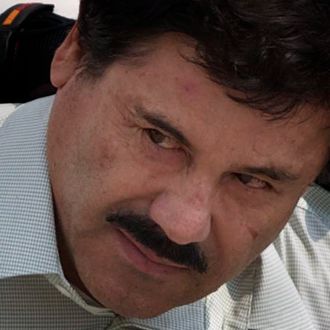 Later.
Photo: Eduardo Verdugo/AP/Corbis
Joaquín Guzmán Loera, a.k.a. "El Chapo," is still nowhere to be found, but Mexican authorities do have footage of the moment the infamous drug lord disappeared from his prison cell. Government officials released the closed-circuit prison video that shows the Sinaloa cartel leader's rather low-key escape. He paces his cell nervously. He sits on his bed, puts on a pair of shoes, and goes behind a partition where the prisoners shower. In seconds, he disappears.

Authorities had already discovered and explored El Chapo's elaborate, mile-long tunnel, which led out to a construction site. There are no cameras that were trained on the shower stall, in order to allow the prisoners some privacy. Mexican authorities are questioning the prison guards, as it appears likely that employees either assisted in or stayed willfully ignorant of the escape.
There's currently a $3.75 million reward for information about El Chapo — the largest offered in Mexico's history. But many believe the Sinaola cartel leader will elude capture, possibly forever. After his last escape, in 2001, the kingpin managed to dodge authorities for 13 years. His supposed sons are apparently pretty confident: El País reports that people believed to be his kids are bragging about their dad's prison break on Twitter, all of which isn't helping Mexico deal with what the paper calls "una humillación sin precedentes" — an unprecedented humiliation.