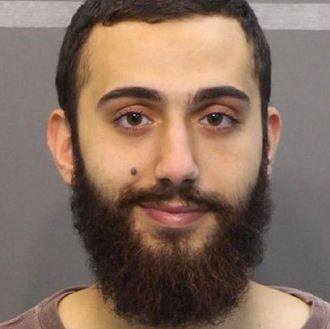 Mohammad Youssuf Abdulazeez.
Photo: Image via Hamilton County Sheriff's Office.
On Thursday in Chattanooga, Tennessee, four Marines — Thomas Sullivan, Skip Wells, David Wyatt, and Carson Holmquist — were killed and three others were injured when a gunman opened fire on a military recruiting center and a nearby Navy reserve center. The gunman, 24-year-old Mohammad Youssef Abdulazeez, was killed at the scene after a firefight with police. While the FBI is investigating the attack as an act of domestic terrorism, Abdulazeez's motive is unknown, and officials say so far they have not found "anything that directly ties" him to an international terrorist organization. Friends and relatives describe him as a funny and intelligent young man from a conservative Muslim family and say they were shocked to learn of the shooting. Here's everything we know about Abdulazeez so far:
• Abdulazeez was a Kuwaiti-born Jordanian, but his family moved to the U.S. following the Persian Gulf War. He was a naturalized American citizen — he was a minor when his mother became a citizen — and grew up in the Chattanooga area. His father worked for Chattanooga's Public Works Department, and the family has lived in the suburb of Hixson for more than a decade. According to the New York Times, neighbors said Abdulazeez and his sisters were well-behaved and polite, and he would often play sports with the other children in the neighborhood. Police were at the family home on Thursday and were seen leading two women away in handcuffs.
• The New York Times reports that Abdulazeez spent about seven months in Jordan last year. "This attack raises several questions about whether he was directed by someone or whether there's enough propaganda out there to motivate him to do this," an official told them, but he said it was too early to know whether he had made contact with extremist groups. Officials have begun contacting authorities in Kuwait and Jordan to learn whether Abdulazeez was on anyone's radar. The Washington Post reports that it appears Abdulazeez appears to have visited Kuwait and Jordan in 2010 too. 
• He attended Red Bank High School, and a classmate told the Chattanooga Times Free Press that he was quiet but well-liked. "He was friendly, funny, kind," said Kagan Wagner. "I never would have thought it would would be him." Another classmate Samantha Barnette told CNN he was "incredibly intelligent," and "was always getting recognized for his high grades and getting awards all throughout school. It's upsetting to see him waste it all." A photo has surfaced of his yearbook quote, which reads, "My name causes national security alerts. What does yours do?"
• Kevin Emily, Abdulazeez's high-school wrestling coach, said he was "a great student." "He always contributed, always did what I asked him to do. I never had any problems out of Mohammad," Emily told CNN." "He was very humble when he was in high school. He'd always listen to me, looked me in the eye. He was just – in high school he was a great kid."
• His sisters and his mother wore head scarves, and in 2010 his sister Yasmeen told the Chattanooga Free Press that while she was sometimes harassed, she saw that as an opportunity to educate people about Islam. "I'm not afraid to go straight toward them and ask them, 'Do you really know what Islam is?'" she said. "There's this misconception that Islam is a violent religion. Muslims are actually peaceful."
• According to a résumé posted online, Abdulazeez graduated from the University of Tennessee at Chattanooga in September 2012 with a degree in electrical engineering. He interned at the Tennessee Valley Authority, Mohawk Industries, and Global Trade Express.
• Abdulazeez began practicing mixed martial arts after high school and competed in at least one official match in 2009. Video of the fight, which he won, was posted online:
• Almir Dizdarevic, Abdulazeez's former MMA coach, said his father told him about two years ago that the young man had left the country to "move back home," but officials have not confirmed that he spent time abroad. Dizdarevic said that when he ran into his former student recently, he told him he was teaching wrestling.
• Federal officials told the New York Times that years ago Abdulazeez's father was investigated by the FBI for donating money to a group with possible terrorism connections. He was placed on the terrorism watch list and questioned while he was traveling abroad, but there were no charges, and eventually he was removed from the list. Officials said they don't believe the son was ever on their radar.""They've run an initial check on him. Right now, there is nothing popping early in the system on him, but that could change," a senior U.S. official told ABC News. "They are still checking multiple other databases on him."
• In April Abdulazeez was arrested for driving under the influence, his first offense, and he was scheduled to appear in court later this month.
• A blog apparently written by Abdulazeez has just two entries, both posted on July 13. There's no overt call to violence, but he mentioned jihad in a post about the Sahaba, the companions of the Prophet Muhammad:
We often talk about the Sahaba (RA) and their Ibada. We talk about their worshiping at night, making thikr, reading quran, fasting, sala. But did you ever notice that in one certain period towards the end of the lives of the Sahaba (RA), almost every one of the Sahaba (RA) was a political leader or an army general? Every one of them fought Jihad for the sake of Allah. Every one of them had to make sacrifices in their lives and some even left all their wealth to make hijrah to Medina.

So this picture that you have in your mind that the Sahaba (RA) were people being like priests living in monasteries is not true. All of them towards the end of the lives were either a mayor of a town, governor of a state, or leader of an army at the frontlines. The Sahaba (RA) were very involved in establishing Islam in the world. Their mission was to establish Islam and live it.
The post concludes by asking Allah for help following their path, and "to know what role we need to play to establish Islam in the world." In the other entry he writes:
Brothers and sisters don't be fooled by your desires, this life is short and bitter and the opportunity to submit to allah may pass you by. Take his word as your light and code and do not let other prisoners, whether they are so called 'Scholars' or even your family members, divert you from the truth.  If you make the intention to follow allahs way 100 % and put your desires to the side, allah will guide you to what is right.
The Washington Post also notes that his blog featured recent "references to life as a 'prison' of monotony and superficiality — urging the study of the Koran as a path to add meaning." Abdulazeez also wrote that Muslims must "have appreciation of other points of view."
• In recent months Abdulazeez grew a beard and began showing up to weekly services at the Islamic Society of Greater Chattanooga, where his family worshipped. Dr. Azhar S. Sheikh told the New York Times he assumed the young man had started attending again because he was staying with his parents. He said he hadn't had many interactions with him, but he "didn't notice anything different in his demeanor." He said families at the mosque want no part of the "demented ideology" endorsed by groups like ISIS, adding, "That is not the message we preach here. What people do on the Internet or the World Wide Web or in their own homes, we can't control that."
• For the past three months, Abdulazeez had been working in the Nashville suburbs as "a shift supervisor at Superior Essex Inc., a technology company that designs and produces specialty wiring and cables," according to the Washington Post. He called in sick for a Sunday shift, and never went to work again.
• However, a cousin who spoke to the Washington Post said he felt something was wrong with Abdulazeez during his last visit with relatives in Virginia. "I'm shocked, I'm just shocked," said Abraham Abdelaziz, with tears in his eyes. "I don't know what else to say. I just heard about it. I'm totally shocked."
This post has been updated throughout.