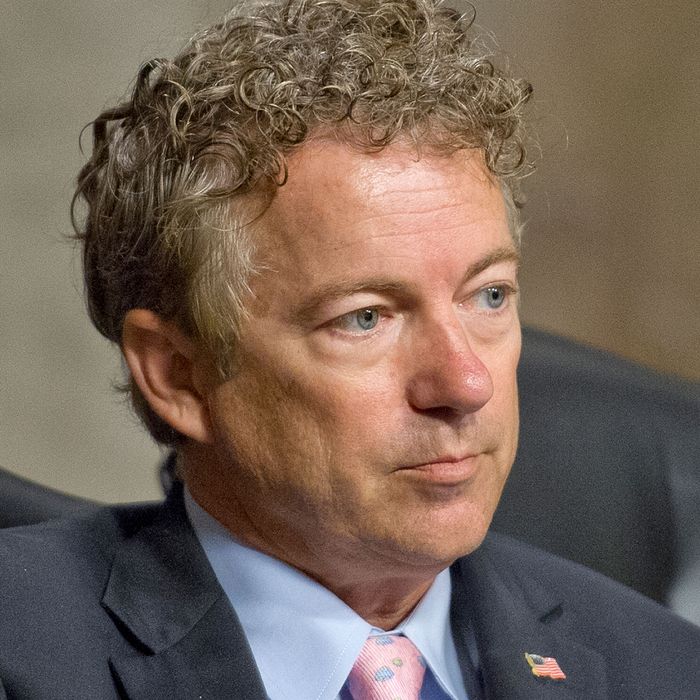 Photo: Ron Sachs/Ron Sachs/CNP/AdMedia
All happy campaigns are alike, but each unhappy campaign is unhappy in its own way. Those unique experiences of campaign failure provide some of the best entertainment of the long and arduous journey, and the pain is compounded by the observed scientific reality that a political corpse is capable of continuing to trudge forward well after its viability has expired. We begin our study of failure with Rand Paul.
Many failed campaigns are doomed attempts to rise above obscurity. Paul actually began his in a blaze of grandeur. Time put him on its cover and called him "The Most Interesting Man in Politics." Such disparate pundits as the Washington Post's Chris Cilizza, NBC's Chuck Todd, National Journal's Josh Kraushaar, The Atlantic's Peter Beinart, and former Republican National Committee chairman Michael Steele tabbed Paul as not merely a possible nominee but the early front-runner. Paul seemed to combine two opposing traits: He inflamed the passions of tea-party activists, but also had a plausible-sounding blueprint for expanding his party's general election appeal.
It has not worked out. Paul finds himself languishing in every metric of campaign success: polls, fund-raising, insider support, media attention. Two pre-postmortems today convey the stench of death that clings to Paul's once-buoyant presidential hopes.
Alex Isenstadt has the most comprehensive autopsy of the things that have gone wrong for Rand Paul 2016. His campaign manager resents his chief strategist. Paul, incredibly, turned down a chance to attend a retreat with the Koch Brothers, who are kind of a big deal in the Republican Party. Staff morale is abysmal. The candidate hates fund-raising. Donald Trump has overshadowed him. Paul has "peppered aides with demands for more time off from campaigning, and once chose to go on a spring-break jaunt rather than woo a powerful donor." And the campaign has retained the services of an utterly terrifying figure:
The senator was mingling with the crowd while John Baeza, a 280-pound retired NYPD detective and Paul family loyalist, stood behind him and provided security. [Campaign manager Chip] Englander barged over, convinced that the ex-cop was getting in the way of supporters eager to snap pictures with the senator.

"What the fuck, Baeza?" Englander said, grabbing his shoulder. "Why are you always getting in our fucking shot?"

"Don't ever put your hands on me again," the bodyguard fired back.
David Weigel and Ben Terris report the campaign's explanations for its lack of success, which Paul and his minions gamely present as a shrewd long-term plan. Is it bad that Paul has fallen out of the public debate? No, no: "they insist there is minimal downside to being out of the media glare six months before the Iowa caucuses." Paul, they report, has skipped two Citizens United "freedom summits" and the RedState Gathering. But that's okay, Paul says, because, "The message of his state supporters is the message from the campaign: Anyone doing more than Paul is probably phoning it in at his real job." If there's one thing voters will reward, it's a sterling record of Senatorial vote-attendance.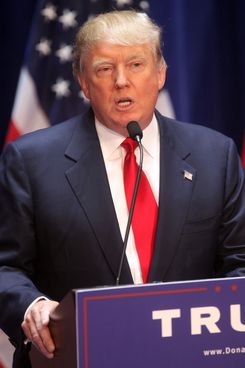 Paul is presenting his failure to attract attention as a reflection not of his love for spring break but rather a principled aversion to campaign high jinks. The candidate recently offered, with a touch of pathos, that he would not set himself on fire to compete with Donald Trump — but he's not above cheeseball antics like setting the tax code on fire.
Perhaps Paul's problem is that he started off setting things on fire, and, since his election in 2010, has spent his half-decade in office tamping down the flames to make himself acceptable to the party Establishment. Paul's highest priority has been rendering himself acceptable to the Republican elite, by trimming his positions on issues like Israel and defense spending. Instead of bringing together activists and the Establishment, he has failed to reassure the latter, and bored the former. Paul has no principled aversion to facilitating the influence of the very rich over the political system. He's just lazy and bad at it.