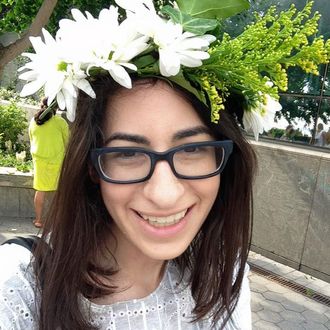 On Monday night, an unknown person was found dead after leaping from the 230 Fifth Rooftop Bar on Fifth Avenue and 27th Street — 20 stories up. Nearly a day later, a fuller picture of her life has begun to emerge. Her name was Faigy Mayer, and she was a 30-year-old developer. She was the founder and CEO of Appton, "a mobile and web solutions startup." She developed apps like "NYCTips," a tip calculator, and "All About Hasids."
On her Twitter profile, she described herself as a "Former #hasid who codes in #iOS. Love #coding, #beacons, #bacon, the #appleWatch and life!" She was a member of Footsteps, an organization that provides resources to members of the ultra-Orthodox community transitioning to secular life, and grew up in ultra-Orthodox neighborhoods in Williamsburg and Borough Park. She appeared in a 2009 National Geographic documentary called Inside Hasidism, according to the New York Post. "It was actually at the age of 3 that I already showed no interest in Yiddish or Hebrew," Mayer said on the program "It was just like so challenging, like the whole transition." She first appears around the 16-minute mark in the video. 
The New York Daily News reported that she wrote about leaving the Hasidic community behind earlier this year on Facebook. "The next five years were incredibly hard but also incredibly rewarding. I've sort of lost all my family but I've made many amazing wonderful friends instead. I am so grateful for the life I have and the blessings therein! … I hope to be an inspiration for others who leave."  
According to DNAinfo, she had been working on an app called "Ex-Hasid's Guide to NYC." Her friend Chanie Friedman
According to the New York Post, her last words were to a bartender: "Where's the east deck?" When she walked over to the wall, she reportedly stepped over it; "the bartender ran to her and grabbed her hand, but she pulled loose and jumped," the Post reported.
There is still plenty of uncertainty about what led to her death, although most of her friends have told reporters that she suffered from depression for years. Chaya Huss, who attended Mayer's funeral and also had left the ultra-Orthodox community in Brooklyn, told WPIX that distance from her family had been trying. "She wrote that she asked her family for pictures of when she was a baby, and they didn't want to give them to her. … And I confided in her, when I was feeling suicidal myself, and she talked me out of it."
"I'm hoping this is the last suicide in our community," her friend Pinny Gold told People magazine, "but I sadly know it won't be." Besides her worries about family, Mayer had also been frustrated about how hard it was to jump-start a tech career and how difficult it was to find new housing.
If Mayer had been depressed, she wouldn't have been alone. As Business Insider notes, a recent study of tech entrepreneurs had 30 percent of those surveyed suffering from depression. 
Mayer was a graduate student at CUNY, and had a bachelor's degree from Touro College and a master's degree from Brooklyn College, all in accounting. She also got a certificate in data science specialization from an online Johns Hopkins University program. 
This post has been updated throughout.