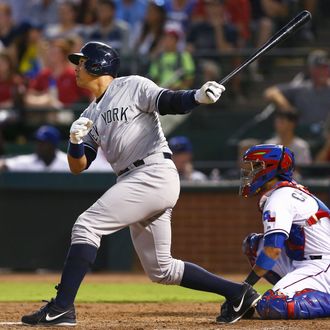 Alex Rodriguez.
Photo: Tom Pennington/Getty Images
Not much was expected of the Yankees this year, even in a wide-open American League East. Six Sports Illustrated experts picked three different teams to win the division, none of them New York. Out of 88 ESPN experts polled before Opening Day, only four selected the Yankees to finish atop the East. No Yahoo Sports writer had the Yanks higher than third. And PECOTA, a projection system created by Nate Silver, predicted the Yanks would finish in fourth place, with an 80-82 record. But with a little over two months to go in the regular season, the Yankees have built a seven-game lead in the East, the second biggest lead of any first-place team.
The Yanks, who began the month in second place, have gotten off to a great start in the season's second half, going 8-2 since the All-Star break. Baseball Prospectus's playoff odds, based on thousands of simulations of the remainder of the season, have the Yankees winning the East 82.1 percent of the time, and reaching the playoffs by one method or another (either a division title or a Wild Card) 92.9 percent of the time. That last number has risen 16 percentage points over the past week.
This chart from Baseball Prospectus shows the Yanks' playoff odds over the course of the season so far. If you're a Yankees fan, this kind of trend is a very good thing: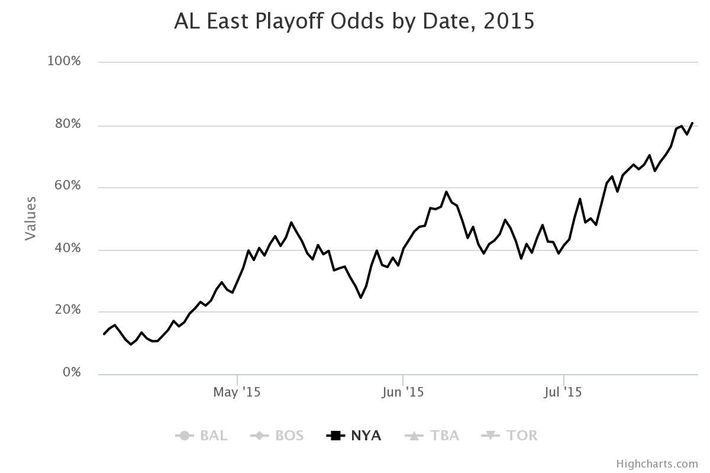 The Yankees are using a formula that isn't terribly unfamiliar in the Bronx: They're scoring a ton of runs (second most in the majors), thanks in large part to resurgent seasons from Alex Rodriguez and Mark Teixeira, and their bullpen has been stellar, with Dellin Betances and Andrew Miller forming a strong 1-2 punch in the late innings. Their starting pitching could be an area to improve at the trade deadline, but a healthy Michael Pineda and Masahiro Tanaka are a solid combination at the top of a rotation.
The Yankees have 64 games remaining, and a division lead like this can evaporate in far less time than that (just ask the Red Sox). But they have a favorable schedule over the remaining two months of the season, in terms of both travel and opposition.
This isn't to say that the rest of the East is ceding the division. The Blue Jays, seven games behind the Yankees and three games out of a Wild Card spot, have reportedly pulled off a blockbuster trade that will send shortstop Jose Reyes and prospects to Colorado for Troy Tulowitzki and veteran reliever LaTroy Hawkins. The trade upgrades what's already the Jays' biggest strength — they're the only team in the majors with more runs than the Yankees — but improving a strength is nevertheless an improvement. But with the trade deadline approaching on Friday, the Yankees still have a few days to make improvements of their own.