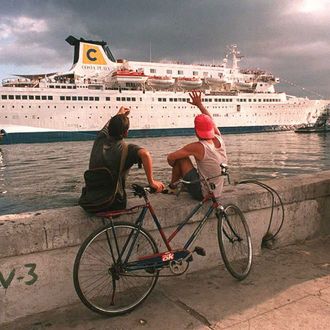 Havana residents wave to european tourists arriving in the Italian cruise liner "Costa Playa" in December 1995.
Photo: Adalberto Roque/AFP/Getty Images
The U.S. and Cuba just announced that they will reopen embassies in both countries this month, and on Tuesday they took another step toward letting citizens enjoy the benefits of reestablishing diplomatic ties. Carnival Corp. said the U.S. Treasury Department has approved its request to operate cruises to Cuba. As long as the Cuban government okays the plan, Americans can set sail in May 2016. There's a catch, though. Since Americans can only head to Cuba for a handful of reason, such as family visits or participating in academic programs, the cruise will focus on partaking in "cultural, artistic, faith-based and humanitarian" experiences. It's part of Carnival's new "fathom" brand, which caters to those who want to do good while vacationing, and a weeklong cruise on the 710-passenger ship will cost $2,990 per person.