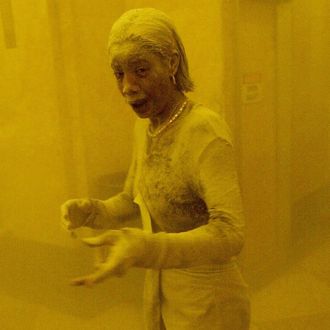 Photo: Stan Honda/AFP/Getty Images
Marcy Borders was 28 when Agence-France Presse photographer Stan Honda took a picture of her covered in dust in a building lobby on September 11, 2001, a palpable terror in her eyes over what she had witnessed that morning. She had only worked at Bank of America for a month, and happened to be late getting to work on the 81st floor of the North Tower that morning. 
"Hundreds of people were trying to get out," she said a decade later. "My stairwell was badly damaged and we had to move stairwells, I was convinced we were going to die. I'm so glad I had the strength to get to the bottom. There were wounded and the injured, it was too much for one to witness. I saw people with things sticking out of them, covered head to toe in blood. I couldn't understand it. What I saw was carnage, and I thought, 'God, I'm going to die anyway.'"
Fourteen years later, she has died of stomach cancer, at the age of 42. Her cousin John Borders wrote on Facebook, "In addition to losing so many friends, coworkers, and colleagues on and after that tragic day … the pain from yesteryear has found a way to resurface."
Last year, Borders told the Jersey Journal that she hated looking at the iconic photograph. "I try to take myself from being a victim to being a survivor now. I don't want to be a victim anymore."
After surviving the terror attack, Borders fell into a deep depression. "My life spiraled out of control. I didn't do a day's work in nearly 10 years, and by 2011 I was a complete mess," she told the New York Post. "Every time I saw an aircraft, I panicked. If I saw a man on a building, I was convinced he was going to shoot me. I started smoking crack cocaine, because I didn't want to live." She went to rehab in April 2011; eight days later, Osama bin Laden was dead. "I used to lose sleep over him, have bad dreams about bin Laden bombing my house, but now I have peace of mind."
She wondered if her cancer had anything to do with the dust and debris she inhaled that day. "I'm saying to myself," she told the Jersey Journal, "'Did this thing ignite cancer cells in me?' I definitely believe it ­because I haven't had any illnesses. I don't have high blood pressure … high cholesterol, diabetes." She told the newspaper last year that she was paying off $190,000 in medical bills and had no insurance. 
Many 9/11 survivors and first responders have died of cancer — nearly 4,000, according to a tally from the Post earlier this month. Kirsten Gillibrand and a group of her fellow senators have been pushing for Congress to renew the James Zadroga 9/11 Health and Compensation Act, which is set to expire next month. At an event advocating for the law in Staten Island earlier this month, former police sergeant Joseph Weibel said, "This is what you live with. This is what we have. There's nothing we can do about it, we hate it. We do our best to get through our lives, you know. I feel a little better here, a little better there."