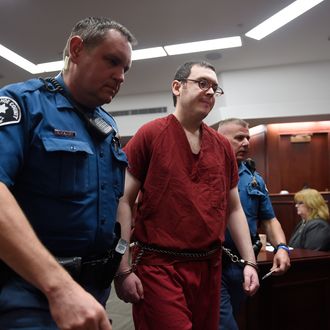 Photo: RJ Sangosti/The Denver Post via Getty Images
A Colorado judge handed down a life sentence without parole to Aurora gunman James Holmes, who in 2012, open fired on a Colorado movie theater during a showing of The Dark Knight Rises, killing 12 and hurting 70 others. "It is almost impossible to comprehend how a human being is capable of such acts," Judge Carlos A. Samour Jr. said in court Wednesday, confirming Holmes's life sentence for the murders and an additional 3,200 years for the rest of his crimes.
Last month, a jury convicted Holmes of murder, 140 counts of attempted first-degree murder, and explosives offenses. The defense tried to make the case that Holmes was insane, but the jurors rejected that argument and deemed Holmes capable of knowing the difference between right and wrong at the time he carried out and planned the attack. The jury had the option to sentence Holmes to death by unanimous vote, but at least one juror declined to support the death penalty. Holmes, by default, got a life sentence, so the judge's decision Wednesday played out as expected.
Almost 100 people who witnessed, were wounded, or were close relatives of the victims of the theater massacre testified in the two days before the sentencing. Many recounted the unimaginable and harrowing details from inside the movie theater: the terror, the chaos, the blood-soaked bodies. One survivor, Stephanie Davies, described the scene as being "in the mouth of hell."
Holmes still faces a mental-health evaluation, which will determine where he will serve his sentence. He has been diagnosed with forms of schizophrenia, and could be committed to the mental-health facility within Colorado's prison system, or potentially be moved out of state.