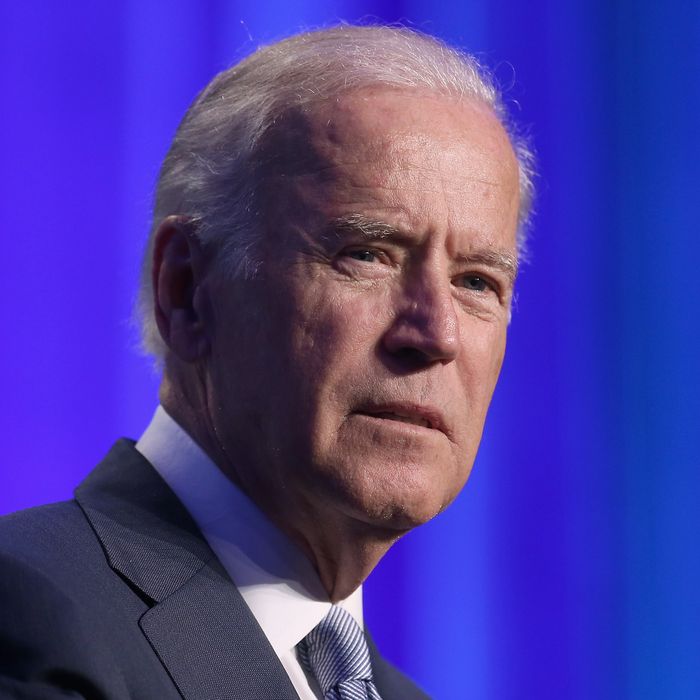 Vice President Joe Biden addresses the 10th annual Make Progress National Summit on July 16, 2015 in Washington, DC.
Photo: Chip Somodevilla/Getty Images
From meeting with Senator Elizabeth Warren to huddling with former Obama strategists, Joe Biden has sent many signals about his political future in the past month, and on Wednesday he made his first public comments on his potential 2016 run — though not intentionally. CNN posted audio recorded during what was supposed to be a private conference call for Democratic National Committee members in which the vice-president confirmed that he's actively considering entering the campaign. The call focused on the Iran deal, and after discussing that topic for about an hour, the first question was about Biden's presidential ambitions.
"We're dealing at home with … whether or not there is the emotional fuel at this time to run," Biden responded, alluding to the death of his son Beau in May. "If I were to announce to run, I have to be able to commit to all of you that I would be able to give it my whole heart and my whole soul, and right now, both are pretty well banged up." He added, "I'm not trying to skirt your question. That's the truth of the matter, but believe me, I've given this a lot of thought and dealing internally with the family on how we do this."
Hillary Clinton weighed in on Biden's potential run as well during a campaign stop in Ankeny, Iowa, on Wednesday. "I was at his son's funeral, I mean, I cannot even imagine the grief and the heartbreak," Clinton said, recalling that Biden also lost his first wife and infant daughter in a car crash in 1972. "Vice President Biden is a friend of mine. He and I were colleagues in the Senate, I worked with him as First Lady, I worked with him obviously in President Obama's first term, and I have a great deal of admiration and affection," she continued. "I think he has to make what is a very difficult decision for himself and his family. He should have the space and opportunity to decide what he wants to do. I'm going to be running for president regardless."
Of course, behind the scenes there's said to be a good deal of strife over whether Biden will enter the campaign. As Politico notes, Clinton made her remarks while standing with Agriculture Secretary Tom Vilsack, who just became the first member of the Obama administration to endorse Clinton. While President Obama reportedly gave the vice-president his blessing, should he decide to run, Obama is said to prefer Clinton as his successor, and several of his former aides are running her campaign. A Clinton ally brushed off that report, telling the Washington Post, "The only thing [Obama] could say [to Biden] is what he said to Hillary: 'If that is what you want to do, do it.'"
Biden is expected to make his decision in late September or early October, and with such a late entry, he would face serious fund-raising hurdles. Clinton raised $47 million during her first quarter in the race, and she also has the support of several well-funded super-PACs. However, several top donors with ties to Biden have yet to support Clinton, and according to the Post, only 52 of the 770 people who bundled for Obama in the last election have actively thrown their support behind Clinton. Kirk Dornbush, an Obama fund-raiser who has not committed to Clinton, said he thinks Biden would be enthusiastically welcomed into the race. "Obama donors, the whole Obama world just loves Joe Biden — just loves Joe Biden," he said. "And so they would be very open to sitting down with him and having the conversation, if not writing him a check."
But he, too, said the key question is whether Biden's heart is really in the race. "People will want to look him in the eye and see that in fact he has the fire in the belly, because that was just crystal clear when we all had that conversation with then-Senator Obama, and I think people want to have that same sense with Joe," he explained.