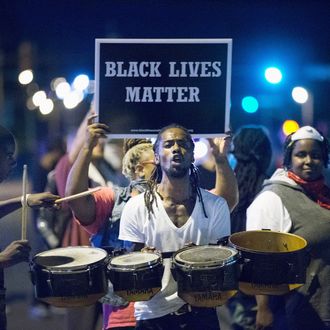 Demonstrators, marking the first anniversary of the shooting of Michael Brown, protest along West Florissant Street.
Photo: Scott Olson/Getty Images
A Justice Department report on the Ferguson municipal court system from last March earned the city much condemnation: Routine discrimination toward black residents was rampant, and large and ever-increasing fines and stints in jail were inevitable for even the smallest traffic violations. One woman was fined more than $1,000 and spent six days in jail for parking her car illegally and missing subsequent court appearances. Residents were fined more than $500 for having weeds in their yard. The report concludes, "Ferguson's law enforcement practices are shaped by the City's focus on revenue rather than public safety needs."
Since that report came out, the city has started to make some changes. Donald McCullin, who is black, was appointed to be the new municipal judge in June, replacing Judge Ronald Brockmeyer — who resigned after the release of the report. Earlier this summer, Judge McCullin told the St. Louis Post-Dispatch that "the police cannot be a revenue generating body. When I interviewed for the position, they assured me they were not looking for anyone whose purpose was to generate revenue, and I explained when I was asked to take the position, that if you are looking for someone to generate revenue, you have the wrong person." He added that "There were legitimate concerns that needed addressing" in the Justice Department report. "The criticism of charging people for failure to appear has been eliminated. Fines have been reduced. Bond schedules have been changed."
Another big change is coming on Friday, when a new municipal reform law goes into effect. Starting next year, cities in St. Louis County will have to cap revenue from traffic tickets at 12.5 percent. Officials will also be barred from fining people more for failing to show up at court. Cities that fail to report on their finances in a timely fashion will lose jurisdiction over their municipal court systems. 
Plenty of people thought that these measures didn't go far enough, and that there are still many problems left to be addressed in St. Louis County. McCullin tried to address some of those worries on Monday night by withdrawing every single arrest warrant — there are nearly 10,000 — for municipal violations from before December 31, 2014, which was a few months after the protest spurred by Michael Brown's death began. There are about 21,000 residents in Ferguson; two thirds of the city is black.
Defendants who have seen their warrants evaporate will be given new court dates and several alternatives to paying huge, impossible fines, like community service, commuted fines, or installment plans. People who had their driver's licenses suspended because of a failure to pay a fine or appear in court will be able to drive again. If people are arrested for a minor traffic violation in the future, they will not be put in jail but instead given a court date and released. 
"These changes," Judge McCullin said, "should continue the process of restoring confidence in the court, alleviating fears of the consequences of appearing in court, and giving many residents a fresh start." Mayor James Knowles III told the New York Times. "The hope is we can go through and have people come, get right, get rid of the excess fines and fees, and have people deal with the original issue that brought them before the law." The city council approves of the changes.
Thomas Harvey, executive director of ArchCity Defenders, told the St. Louis Post-Dispatch that he still wasn't sure the changes were enough, given how long residents in Ferguson have suffered under an unfair court system. "The fundamental question is why does anyone trust this court to change?" he said. "It stands to reason that we ought to be skeptical about a town that has had a court like this for so long." Some worried that fines would still be too high for low-income residents to pay, or that black residents would continue to face higher fines and more arrests. If defendants do not appear for the new round of court dates, more warrants will be issued.