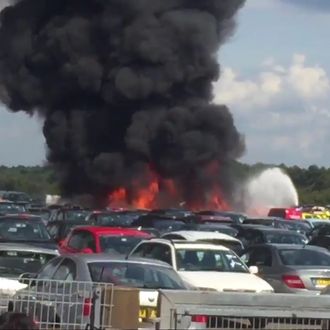 Three of Osama bin Laden's family members, including his stepmother, half-sister, and brother-in-law, were among four people killed in a mysterious plane crash outside of London on Friday afternoon, the Associated Press reports. The three Saudi citizens were passengers in an advanced private jet and were landing for one of their regular vacations in Britain when the plane missed the runway and nose-dived into an adjacent parking lot, killing everyone aboard. British authorities are now investigating the incident, and as The Guardian points out, what's bizarre about the crash is that both the Embraer Phenom 300 jet and Blackbushe private airport are equipped with state-of-the-art technology for preventing just such an occurrence:
>
The [more than $10 million] plane, equipped with fly-by-wire electronic system that is supposed to make it easy to control, was a regular visitor to the airport, according to pilots who use Blackbushe. It was attempting a landing in near perfect conditions on a runway that was fitted with Precision Approach Pathway Indicators (Papis).

The four indicators, which can be seen from more than half a mile away, all flash white if the pilot is coming in too high and red if too low. "It doesn't make sense to me as an ordinary pilot why something that advanced and easy to fly would bury itself in the [parking lot] at the end of such a long runway," said Simon Moores, a flight instructor and pilot who has flown from Blackbushe many times.