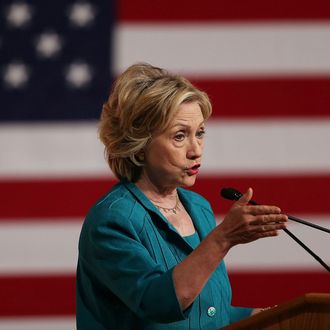 Photo: Joe Raedle/2015 Getty Images
The New Republic reported this afternoon that #BlackLivesMatter activists — who have protested at several recent Bernie Sanders campaign events — planned to disrupt a Hillary Clinton event on substance abuse in New Hampshire. The activists planned to ask questions like, "Can you give at least one tangible example of how you expect to reverse the health and human services disaster you orchestrated in impoverished, urban, non-white communities through the domestic [War on Drugs] policy you've championed as FLOTUS & Senator?" and "Is it your plan, as POTUS, to finally put an end to the International War on Drugs … you waged as Sec. of State or is your intention to continue to oversee its horrendous expansion?" according to TNR. 
However, it looks like they might have to wait for the answers. The Secret Service closed the doors at the event as soon as Clinton arrived — and before the activists managed to get in. The room was already filled to capacity.
However, a Clinton spokesperson told reporters that the candidate plans on meeting with the activists — who watched her speak from an overflow room — after the event. 
Recent #BlackLivesMatter protests have led presidential campaigns to make changes. Sanders released a racial-justice plan after several of his rallies were disrupted by activists; Martin O'Malley sent out a criminal justice reform platform after he said "all lives matter" at Netroots Nation. Some Sanders supporters have criticized #BlackLivesMatter activists, asking why they haven't protested at Hillary Clinton events. 
As today's events make clear — and as Dara Lind at Vox points out —  "there's actually a perfectly nonconspiratorial, even obvious reason that Hillary Clinton campaign events aren't getting disrupted: Hillary Clinton isn't holding disruptable campaign events. She's holding small events with voters in early primary states, or massively stage-managed rallies — and always with a Secret Service detail at the ready."
Although #BlackLivesMatter protests haven't been a notable presence at her events, she has made sure to mention them. In a recent Facebook chat, she answered a question about Netroots Nation —  which she did not attend. "Black lives matter," she wrote. "Everyone in this country should stand firmly behind that. We need to acknowledge some hard truths about race and justice in this country, and one of those hard truths is that racial inequality is not merely a symptom of economic inequality. Black people across America still experience racism every day. Since this campaign started, I've been talking about the work we must do to address the systemic inequities that persist in education, in economic opportunity, in our justice system. But we have to do more than talk — we have to take action." At a recent event in South Carolina, she said the same thing: "Yes, black lives matter." 
Activist DeRay Mckesson told the Washington Post that her Facebook response was good, but that "She also had time to craft it." #BlackLivesMatter protesters want to see Clinton answer their questions in person — just like Sanders and O'Malley have had to — and are going to keep trying to get into her events until she does.