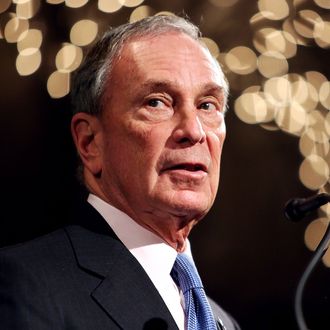 Photo: Monica Schipper/Getty Images
Bloomberg, which said a year ago that its new politics vertical "represents a significant strengthening of our political and government coverage," is reportedly planning on laying off 100 editorial staffers — mostly those who cover politics and government, according to the New York Post. The reason for the layoffs, the Post says, is that "Mike Bloomberg is looking to cut the fat" and get rid of redundancies in reporting. Politico reports that the Bloomberg D.C. bureau will still exist, but that "its focus will be redirected toward financial aspects of government like law, regulation, and the Treasury" — the kind of reporting that helps Bloomberg make money from Bloomberg Terminal subscribers. The Huffington Post adds that "staffers expect the Washington bureau will be hit the hardest," and that Bloomberg Politics staffers — mostly based in New York — are "expected to be spared from the coming layoffs, according to sources, though the site will be shifting its focus in the coming weeks." 
Although the company's redundancies in political coverage may have received a D- from management, the job prospects of Mark Halperin and John Heilemann, who were hired to lead the Bloomberg politics team, deserve a B+; both have a contract that will keep them at Bloomberg until the end of the election cycle with annual salaries of at least $1 million. 
Update: Bloomberg released statements this afternoon regarding the reported layoffs. Chief content officer Josh Tyrangiel says, "We will continue to cover all aspects of government and politics in Washington, New York and beyond. Any reporting that indicates otherwise is blatantly false." Justin B. Smith, CEO of Bloomberg Media, adds, "In 10 months, traffic to Bloomberg's political coverage has more than doubled, 'With All Due Respect' has interviewed 17 presidential candidates, and our reporters continue to drive the political conversation." He says that Bloomberg Politics is a "key pillar of our strategy to build the leading global multi-platform media company," and that the company is "fully committed" to it.
This post has been updated throughout.