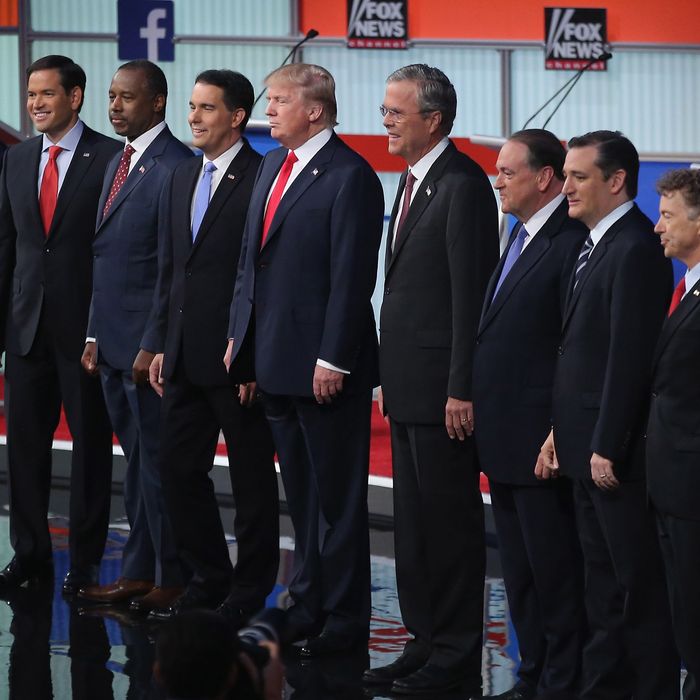 Ready to rumble.
Photo: Scott Olson/Getty Images
Last night's Republican debate was a journalist's dream: bombast and dads and pimps and hugs and disgusting animals and what seemed like the taunting of a member of Congress for using a hearing aid. This morning's jobs numbers are a journalist's nightmare: right where people expected them to be, showing an economy just doing what it's doing.
Right now, the former matters vastly more than the latter, at least in terms of shaping the presidential race. Voters often change their minds about which candidate to support based on the substance of the primary debates. When it comes time for Donald Trump to face off against Hillary Clinton in the general-election shouting contests, though, few voters are likely to be convinced to switch blonds.
But in a few months, the jobs report — no matter how boring it is — will really start to matter. Indeed, few things are as predictive of an incumbent party's success in a presidential election as jobs growth that year, particularly in the second and third quarters. If these boring reports keep coming, meaning if the economy keeps on improving, that bodes pretty well for the Democratic candidate and not so much for the Republican. If the jobs market sours early next year, the opposite is true. 
All that seems stupidly self-evident, of course, though we journalists tend to do a terrible job remembering it. By the time primary voters head to the polls next spring, media reports about the state of the economy — stories on the local news, headlines in the papers, an overall sense of things getting better or worse — will be cementing voters' opinions of these politicians in the background, no matter what kind of caterwauling Trump is doing in the front.