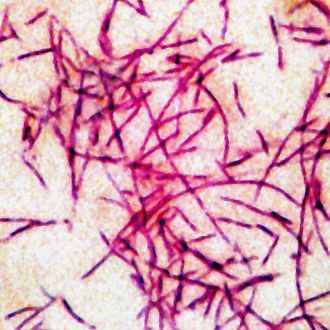 Legionella pneumophila.
Photo: BSIP/UIG
Over the weekend a fourth person died of Legionnaires' disease in the South Bronx, and the number of reported infections in the borough since July 10 rose to 71. The disease, which is a form of pneumonia, is transmitted through airborne water droplets and often spreads through building water systems. According to The Wall Street Journal, officials said the four people who died were older adults with "underlying medical problems," and of the 55 people hospitalized, 25 have been discharged. The disease has an incubation period of two to 14 days, and the number of cases is expected to rise.
Health officials have yet to identify the source of the outbreak, but of the 22 buildings tested in the South Bronx, five had cooling towers that tested positive for Legionella: Lincoln Medical Center, the Concourse Plaza shopping center, Opera House Hotel, a Verizon building, and Streamline Plastics Co. The cooling towers can emit mist that contains Legionella bacteria and sickens people on the street below.
The outbreak has sparked calls for regular monitoring of the towers. "There's no technical or scientific reason that anyone should ever get sick from the water in their buildings, and yet it happens because we don't manage the water the way we should," William F. McCoy, a Legionnaires' disease researcher, told the New York Times.