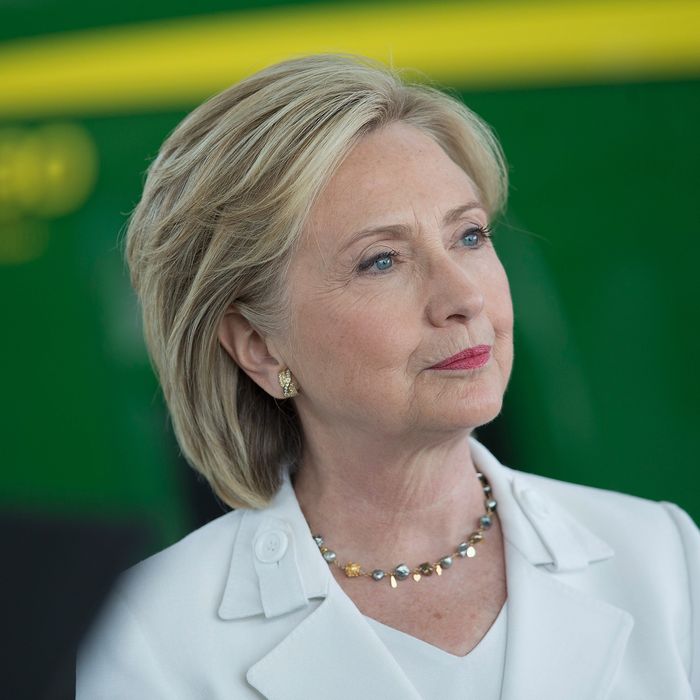 Hillary Clinton at a campaign event in Ankeny, Iowa on August 26, 2015.
Photo: Scott Olson/Getty Images
In the past week, something clicked for Hillary Clinton about her ongoing email scandal. "I know people have raised questions about my email use as secretary of state, and I understand why. I get it," Clinton said after a speech in Iowa on Wednesday. "My use of personal email was allowed by the State Department. It clearly wasn't the best choice. I should've used two emails: one personal, one for work, and I take responsibility for that decision."
Clinton's admission that she made a poor decision regarding her email habits wasn't momentous in and of itself, but it was a huge shift from the various positions she's taken on the matter thus far. Initially Cli nton took a defensive tone, saying she merely used one email address because she thought "it would be easier to carry one device." As the issue dragged on, she switched to dismissing the story as another GOP witch hunt, declaring, "It's being turned into a partisan attack connected, unfortunately, with the continuing Republican partisanship over Benghazi." She also blamed the press, telling reporters, "Nobody talks to me about it other than you guys," and vigorously protesting an incorrect New York Times report on the subject, even after the paper issued several corrections.
Earlier this month, the Clinton campaign was said to be launching a more aggressive push to paint the issue as a typical inter-agency dispute over classification. And just last week, Clinton tried joking about her emails, saying she loves Snapchat because "those messages disappear all by themselves." When asked about wiping her server before handing it over to the FBI, she cracked, "What, like with a cloth or something?"
Despite giving the public a wide range of explanations to choose from, the controversy is taking a toll. A Quinnipiac University poll released Thursday had Clinton at new lows for honesty, favorability, and trustworthinesss. The survey conducted between August 20 and 25 found 61 percent of registered voters believe Clinton isn't honest and trustworthy, and 51 percent view her unfavorably. "Liar," "dishonest," and "untrustworthy" were also the three most popular responses when people were asked to give the first word that comes to mind when they think of Clinton.
And the New York Times reported on Thursday that in conversations with 75 top Democrats, they found "widespread bewilderment" at the way Clinton has responded to the controversy (many were even willing to criticize Clinton on the record rather than offering anonymous quotes).
Some were skeptical that Clinton will maintain her serious tone on the issue, and wondered if there's anything she can do to salvage the situation. "They've handled the email issue poorly, maybe atrociously, certainly horribly," said Ed Rendell, the former governor of Pennsylvania. "The campaign has been incredibly tone-deaf, not seeing this as a more serious issue. She should have turned over the email server at the start, because they should have known they'd be forced to give it up. But at this point, there's nothing they can do to kill the issue — they're left just playing defense."
But others were encouraged by Clinton's new strategy, and suggested she needs to go even further, perhaps by offering an apology. "Instead of flippant and smart-aleck comments, it would just be better to come clean in a straightforward way," Pat Cotham, Democratic National Committeewoman and county commissioner from North Carolina, told the paper. "People don't expect you to be perfect, but they just want to know what the deal is."
Clinton is expected to address her emails again during a speech before the Democratic National Committee on Friday, so perhaps we'll see Clinton offer a more vigorous mea culpa — or try out yet another tactic.