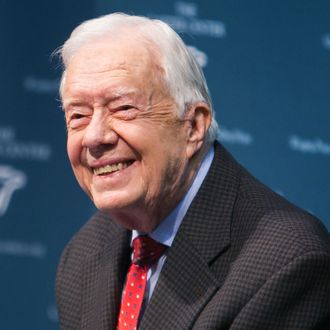 Photo: Jessica McGowan/Getty Images
On Thursday morning, former president Jimmy Carter announced that his cancer has spread to his brain, and that he would begin radiation treatments today. "I'm perfectly at ease with whatever comes," he said at a press conference at the Carter Center in Atlanta. He added, "I'm ready for anything. I'm looking forward to a new adventure." 
Carter had surgery to remove a tumor from his liver on August 3, which is when doctors found "four spots of melanoma" on his brain. Carter had known since June that he probably needed surgery, but delayed the operation because of his book tour for A Full Life: Reflections at Ninety.
Carter said the treatments would force him to curtail his work at the Carter Center "fairly dramatically," but that he still planned to teach Sunday school at Maranatha Baptist Church this weekend. He also hoped to travel to Nepal in November for a trip with Habitat for Humanity. Carter won a Nobel Peace Prize in 2002 for his work with the Center. 
He said he hadn't "felt any weakness or debility," and that his cancer had not yet spread to his pancreas; his father, two sisters, and brother all died of pancreatic cancer. The New York Times asked Carter about his family's medical history in 2007. "The only difference between me and my father and my siblings was that I never smoked a cigarette," he said. "My daddy smoked regularly. All of them smoked."
When Carter first heard about the cancer earlier this month, he said he "just thought I had a few weeks left." He added, "but I was surprisingly at ease — much more so than my wife was."
All the living former presidents — plus Barack Obama, Joe Biden, Secretary of State John Kerry, and Hillary Clinton — have called Carter since his diagnosis. "It's the first time they've called me in a long time," he said, laughing. 
After speaking about his treatment, Carter was asked a few questions about current politics. He said he wished that there could be peace in the Middle East, although he said prospects seem "more dismal than any time I remember in the last 50 years." Turning to the Carter Center's efforts in Africa, he added, smiling, "I'd like for the last guinea worm to die before I do."