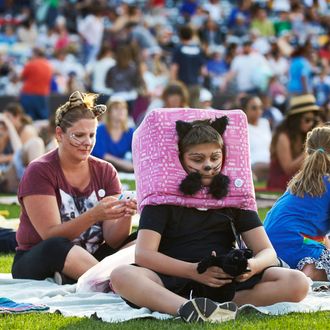 Photo: Adam Bettcher/Adam Bettcher
On Wednesday night, nearly 13,000 people — many with whiskers and pointy ears — stormed a baseball field in St. Paul, Minnesota, to watch cat videos. The mayor threw a ceremonial ball of yarn to begin the fourth annual Internet Cat Video Festival. Attendees did Meow Yoga and watched videos of cats chasing lasers, acting in Jurassic Park, drinking out of goldfish bowls, and the Golden Kitty Award–winning video titled "Cat Behavior Finally Explained."
Before the award was given, the scoreboard flashed a picture of the statuette with the words "This is a trophy." Then, the image changed to a picture of Cecil the Lion next to a caption that read "This is not." The crowd cheered.
This year's festival was dedicated to the deceased lion, who was killed by a Minnesota dentist last month. 

The Minneapolis Star-Tribune talked to many fans in attendance, who stressed that they were only a little bit crazy. One woman said, "This brings the crazy people all together." Another man philosophized while playing with his cat-ear headband: "Hey, if all of us are crazy, none of us are crazy. Anyway, there are crazier ways to spend a Wednesday."
Cats were banned from attending the event — or rather, they spent all year chasing lasers with the hope that they would be rewarded with one night alone without anyone filming them — and had the luxury of enjoying the best part of the festivities without ever leaving the living room: local news segments starring people dressed like felines, which are probably the only type of cat videos that cats find amusing.