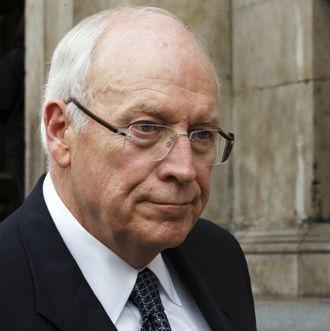 Photo: OLIVIA HARRIS/AFP Images/Getty
It's no surprise that former vice-president Dick Cheney — a man who literally and figuratively lacks a full human heart — can throw shade with the best of them. In a Monday interview with CNN, Cheney didn't bother to hide his glee at the prospect of current vice-president Joe Biden — a man currently making an anguished decision about whether or not to launch a presidential campaign — acting as a stumbling block to Hillary Clinton's march to the White House.
"I'd love to see Joe get in the race," he said. "Well, go for it, Joe. He's tried twice before; he obviously is interested." "I think there's a lot of support for him in the Democratic Party. I think it would stir things up," Cheney continued. "They're short candidates on their side, so I'd urge Joe to have a shot at it." If only someone would ask him about Bernie Sanders!