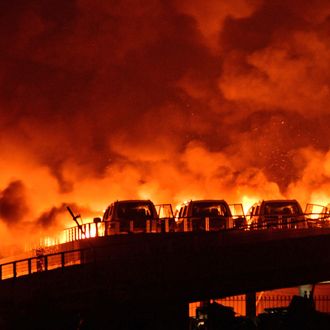 Photo: Tong Yu/CNSPHOTO/ChinaFotoPress via Getty Images
Chinese prosecutors detained 11 government officials on Thursday — all are being blamed for the explosion in Tianjin earlier this month that killed at least 139 people and could lead to more than $1.5 billion in insurance claims. The president of Tianjin Port, two of his subordinates, and current and retired officials in charge of work safety, customs, and transportation in the area, were among the detained. Most of the officials were reportedly accused of dereliction of duty — and not preventing illegal work practices at the port — and one official was accused of abusing power. 
A notice, posted online from the prosecutors, notes that those officials detained "failed to take strong measures in response to the Ruihai company's illegal and unregulated actions, did not assiduously carry out their duties and issued business permits in violations of rules." Twelve executives, mostly employees at Ruihai International Logistics — the company housing the toxic chemicals, including 700 tons of sodium cyanide that helped cause the blast — have also been detained. 
Companies are still reeling from losses in the fire — thousands of cars were rendered unusable, and many storage facilities were ruined. The total environmental impact of the disaster is still unknown too, although the prognosis does not look good. Thousands of dead fish have washed up on banks, which officials have said should cause no alarm as many fish die in the summer due to natural changes in the water's salt levels. Many people are still missing, including some first responders. According to the Los Angeles Times, 115 firefighters and police officers are dead or unaccounted for. More than 500 people are still in the hospital, per the BBC.