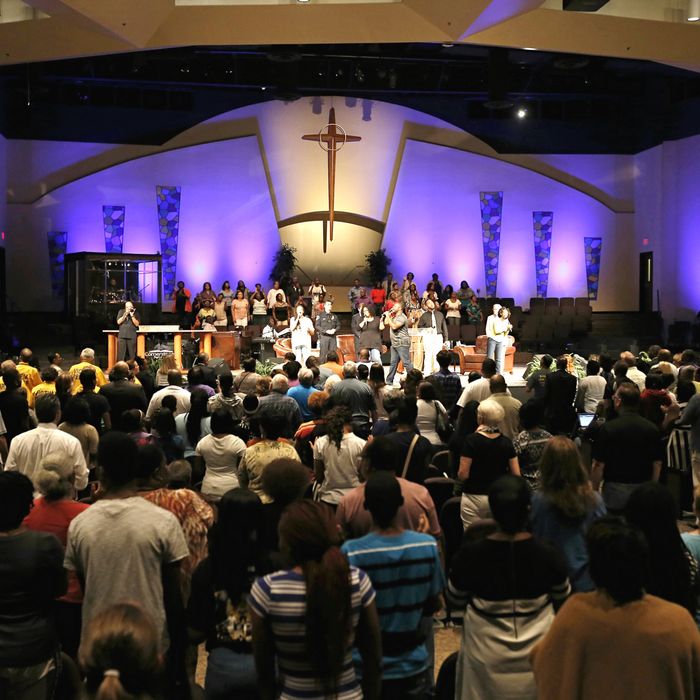 Hundreds gather to discuss the issues surrounding Christian Taylor's death at Cornerstone Baptist Church in Arlington, Texas, on Wednesday, August 12, 2015.
Photo: Brandon Wade/Fort Worth Star-Telegram/TNS via Getty Images
Brad Miller, a 49-year-old rookie cop in Arlington, Texas, was fired this week for demonstrating "inappropriate judgment" when he shot and killed unarmed 19-year-old Christian Taylor during a suspected burglary. What led Miller to open fire is still the subject of a criminal investigation, and there's another major question in the case: Why was Taylor even at the car dealership? Family and friends say the bizarre behavior captured on surveillance video — including breaking into a car and driving into the showroom window — was completely out of character for the football player and honor student at Angelo State University. His father, Adrian Taylor, said the person in the video "was not my son."
But Taylor's life had taken a dramatic turn in the weeks prior to his death. Loved ones tell the Washington Post that he said he'd had a religious awakening and had been talking obsessively about God and his desire to be a leader for social justice.
Taylor said he had a profound experience during a break while working as a waiter. "He said that on his break, God came to him and he cried and cried. It really changed his life," said his best friend, Jordan Smith. "He said God came to him not only to get himself right, but to get us all on board. He wanted to save everybody."
Smith said that when Taylor had dinner with his family two nights before the shooting, he was talking about God and his desire to be a spiritual leader. "He wanted everybody to know that he had changed his life, and he felt like he was going to be the next Martin Luther King," Taylor said. "That's what he kept saying. 'I've just got to change lives. We don't have any leaders right now, and I want to be a leader.'"
Taylor was killed on the eve of the first anniversary of the shooting of Michael Brown, and he'd posted about the Black Lives Matter movement on Twitter. However, his friends said he hadn't been talking about the unrest in Ferguson recently. The Post wondered if Taylor might have tried to provoke a confrontation with police (which some online commenters found objectionable), and Smith said he'd considered the possibility. "Now that I sit back and think about it, maybe. But, no," he said. "That's not me saying he did this on purpose, because I know he wouldn't. We had too much fun. He lived his life too good to go give it away."
Others speculated that a psychotic break or drugs could explain Taylor's behavior. Taylor's father said he had no history of mental illness, and his friends said he didn't use drugs. The Fort Worth Star-Telegram reported that Taylor had no criminal convictions, but in December he was sentenced to six months' deferred-adjudication probation for possession of a controlled substance. Taylor was charged during a 2013 traffic stop when police found 11 hydrocodone tablets he didn't have a prescription for. The case was dismissed after he completed probation last month.
Regardless of what brought Taylor to the car dealership, Arlington police say Officer Miller made several mistakes in responding to the situation. "Officer Miller reported that he was in fear and that he believed he was alone inside the building and that he would be overpowered by Mr. Taylor," said Police Chief Will Johnson. "Officer Miller believed that he was alone. This fear and feeling of isolation was the result of his poor decision to enter the building without assistance and without an arrest plan." Several experts told the New York Times that across the nation police are advised to wait for backup, establish a perimeter, and have a plan — particularly in a situation where they're trying to make an arrest, not save lives.
On Wednesday the Texas Municipal Police Association accused Chief Johnson of making a "knee-jerk" decision. "Chief Johnson used 20/20 hindsight to protect his job and appease anti-police activists," said Miller's attorney, John Snider. "Officer Miller made decisions in the heat of a violent confrontation to save his and other officers' lives. A four-day 'investigation' and media theatrics are not even close to due process." He added, "This decision, while politically expedient for Chief Johnson, is an insult to the rank and file officers who put their lives on the line every day."
Unlike some other recent police shootings, there is no video of the shooting itself, but a senior officer was involved in the incident. Two local lawyers told the Dallas Morning News they think it's unlikely that Officer Miller will face criminal charges.