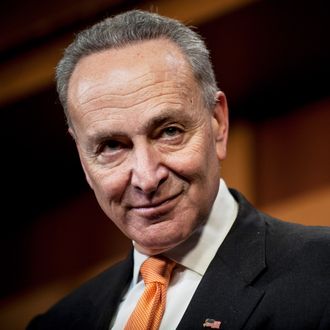 Chuck Schumer.
Photo: Pete Marovich/Corbis
Senator Chuck Schumer will announce his opposition to the Iran Deal tomorrow, according to the Huffington Post. The influential senior New York senator, who could replace Harry Reid as the Democratic leader in the Senate after he retires next year, gave the New York Times a statement explaining his decision — and how it might influence the deal's fate.
"There are some who believe that I can force my colleagues to vote my way," the Jewish Democrat, who has probably been facing massive pressure from his constituents on one side and the White House on the other, said. "While I will certainly share my view and try to persuade them that the vote to disapprove is the right one, in my experience with matters of conscience and great consequence like this, each member ultimately comes to their own conclusion." Representative Jan Schakowsky told the Times that "the calculation still is [supporters will] have the votes" to pass the agreement. 
On Thursday, junior New York senator Kirsten Gillibrand announced her support for the deal. "Our goal has been, and remains, to prevent Iran from developing a nuclear weapon," she said. "We have far more ability to achieve that outcome if we approve this deal." 
President Obama needs 34 votes in the Senate to prevent Congress from overriding the veto he will definitely issue; 27 senators have said they will support the deal or are leaning toward supporting it, according to the Washington Post's count. There are only 13 definitive yes votes so far. Congress is on summer recess now, and will issue its official approval or (more likely) disapproval of the deal in September before the final deadline. 
This post has been updated throughout.