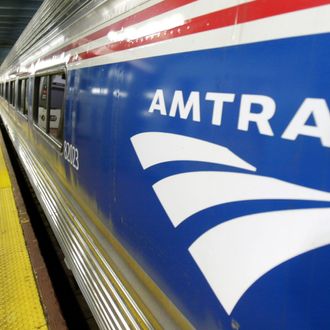 Photo: Mario Tama/Getty Images
"A pessimist sees a dark tunnel. The optimist sees a light at the end of the tunnel. The realist sees a freight train. The train conductor sees three idiots standing on the tracks. … Right now, we're the ones standing on the tracks."
This was one of the many ways Senator Chuck Schumer theatrically described what will happen if no one fixes the 105-year-old Amtrak tunnels connecting New York City and New Jersey, according to Capital New York. He also noted that "transportation Armageddon" was near and that the many delays that have plagued Amtrak and NJ Transit riders were a "soul-chilling premonition of our future." If state and federal governments don't act soon, one of the tunnels could be closed, prompting "a regional or even a national recession." 
Everyone knew these political horror plots were possibilities, but brainstorming ways to fix the problem has mostly resulted in a gubernatorial game of "not it." Neither Andrew Cuomo nor Chris Christie wants to deal with the price tag on such an ambitious infrastructure project, and the fact that the tunnels exist in a confusing netherworld under the Hudson and between both states means questions of cost and responsibility were inevitable.
Schumer's plan for how to fix the stalemate, which he announced in a speech at New York University on Tuesday, is to create a nonprofit corporation called the Gateway Development Corporation. Such a plan would bring together funding options available to New York, New Jersey, the Port Authority, the Metropolitan Transportation Authority, Amtrak, and the federal government — plus private money — and spread responsibility among as many actors as possible. 
"Amtrak can't access federal mass transit funding," Schumer said. "The Port Authority and regional Transit Agencies can't access federal railroad dollars the way Amtrak can. We'll only get Gateway done by adding up several pieces of financing, with an eye toward getting the maximum amount possible from the federal government." Schumer also proposed that Amtrak profits from the Northeast Corridor be used for fixing that rail line instead of helping fund less busy routes elsewhere in the country.
The possible price tag of the project — more than $20 billion — and looming worries about having to use loans to finance some of the repairs had Christie and Cuomo limiting their reaction to the plan to a regurgitation of what we already knew about their feelings on the project: They'd better not be the ones expected to foot most of the bill.
"It's not my tunnel," Cuomo said yesterday. "Why don't you pay for it?"
"The Governor has repeatedly made clear that the federal government and the state of New York must be equally committed to a fair funding solution for any project to move forward," Christie's spokesperson added. The federal government, on the other hand, said it wasn't about to pay for the tunnels alone, either: "We're willing to do our part but the region has to step up," Transportation Secretary Anthony Foxx said in a statement. "Gateway will be the largest infrastructure project in the country and will require unprecedented cooperation and commitment from regional and federal leaders."
It was not clear if Schumer has had any luck in the past few hours coming up with imagery more frightening than "transportation Armageddon" to help jump-start talks on his plan, or whether he has resorted to adding "winning the lottery," "buying a fleet of metal detectors," and "finding El Chapo and making him build new tunnels" to his list of funding possibilities.