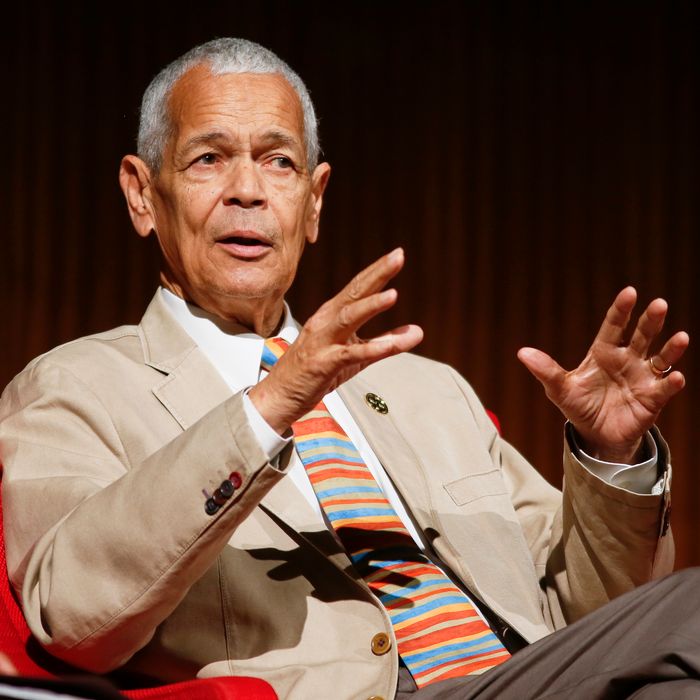 Julian Bond.
Photo: Jack Plunkett/Corbis
Julian Bond, one of the giants of the civil-rights movement, has died at the age of 75, according to the Southern Poverty Law Center. Bond was one of the original leaders of the Student Nonviolent Coordinating Committee, one of the most influential organizations of the civil-rights era, and his service to the country later continued as a legislator, writer, lecturer, commentator, and lifelong activist for minority rights. Following his role on the front lines of the 1960s civil-rights demonstrations, Bond also became a prominent opponent of the Vietnam War, was one of the founders of the SPLC, and eventually led the National Association for the Advancement of Colored People. 
Bond, whose great-grandmother endured slavery in Kentucky, was elected to the Georgia State Legislature in 1965, but his white peers initially blocked him from being seated. This led the Supreme Court, via a unanimous decision, to force his seating on the grounds that he was being denied the freedom of speech. Bond went on to serve in the Georgia House and Senate for 20 years. He also ran for Congress in 1986, but lost that race to fellow civil-rights pioneer John Lewis. Later on, Bond was a major critic of President George W. Bush and the Iraq War, and he became one of the few black civil-rights leaders to speak out on behalf of marriage equality for gay and lesbian people.
Said fellow SPLC founder Morris Dees in announcing Bond's death, "With Julian's passing, the country has lost one of its most passionate and eloquent voices for the cause of justice. He advocated not just for African Americans, but for every group, indeed every person subject to oppression and discrimination, because he recognized the common humanity in us all." President Obama, in a statement released today, added, "Julian Bond helped change this country for the better. And what better way to be remembered than that."
Many others have been paying tribute to the icon as well:
Hulu subscribers can watch the full SNL episode here. Bond also showed his comedy chops on The Colbert Report: