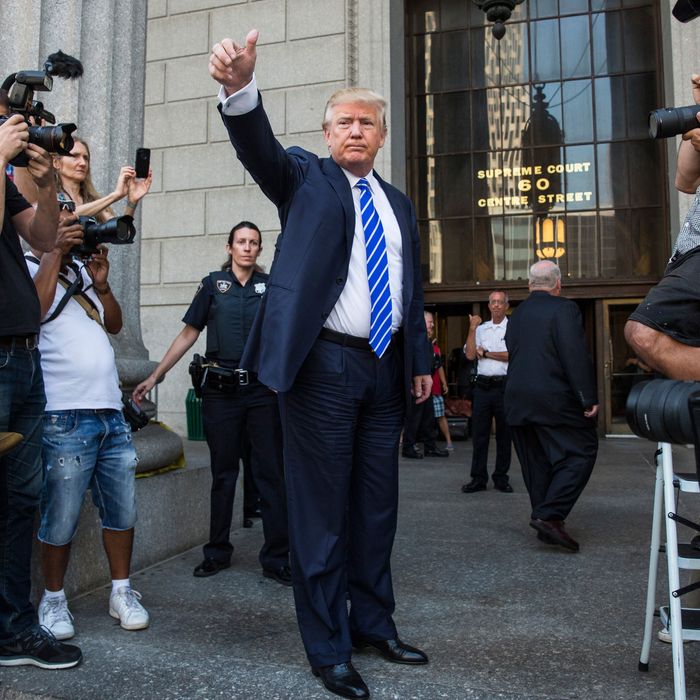 Photo: Andrew Burton/Getty Images
Huge news out of lower Manhattan: Republican presidential candidate and Batman Donald Trump reported for jury duty on Monday morning. Of doing his civic duty, Trump told CBS 2, "I look forward to it," though he admitted that he was "not particularly" excited about the prospect of being selected. "We'll see what happens," he added. A large crowd of supporters and journalists were on hand to ensure that was the case. 
The Associated Press reports that Trump waited in a security line (populist, classy) before joining 75 of his fellow potential jurors in the jury room. What else?
A court officer escorted him to a seat in the front row, and court officers' union President Dennis Quirk said a special team of uniformed and plainclothes officers was brought in to help handle the media presence while ensuring all regular posts were covered. Quirk said that was standard for any high-profile person.

Accompanied by an unarmed private security guard, Trump arrived in time to catch the end of an instructional video about jury duty basics, and he filled out a juror questionnaire asking about biographical basics, occupation, hobbies, experiences with crime and courts and whether the prospective juror is "actively involved in any civil, social, union, professional or other organizations."
And then there was this:
Manhattanites who were planning to get out of jury duty today by giving the most objectionable answers during the voir dire had better up their game.