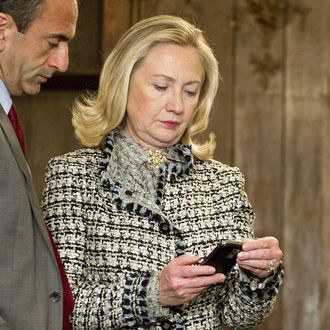 Hillary Clinton.
Photo: JIM WATSON/AFP/Getty Images/2012 AFP
For months Republicans have been demanding that Hillary Clinton turn over the private email server she used while she was secretary of State to a third party, and on Tuesday she finally relented. Clinton said she's directed her staff to give her personal email server to the Justice Department. Her attorney, David Kendall, has also turned over three thumb drives that contain copies of emails Clinton's staff deemed work-related (which were already handed over to the State Department).
The move comes after the intelligence community's inspector general told lawmakers that two of the four emails that were classified when they passed through Clinton's private system were actually "top secret." The State Department says the emails actually weren't marked "classified" when they were sent in 2009 and 2011, and they have yet to be released to the public.
Naturally, Republicans were giddy about Clinton's concession. "All this means is that Hillary Clinton, in the face of FBI scrutiny, has decided she has run out of options," said Republican National Committee chairman Reince Priebus. "She knows she did something wrong and has run out of ways to cover it up." But it's unclear what they hope to find on the private server. Clinton has said she deleted 31,000 emails of a personal nature, and in March Kendall said no emails from Clinton's time as secretary of State still "reside on the server or on back-up systems associated with the server."