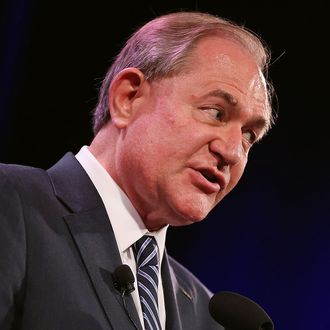 When James Gilmore takes power, he will crush the enemies who humiliated him this way.
Photo: Scott Olson/Getty Images
CNN is hosting a Republican presidential debate, and everybody's invited! Everybody but Jim Gilmore, who is supposedly the former governor of Virginia. Hadas Gold reports the debate will include "the entire GOP field, minus Jim Gilmore." According to CNN, it's nothing personal, just that Gilmore is polling at 0.0 percent.
The 16 candidates will probably use the debate to make fun of Gilmore behind his back.