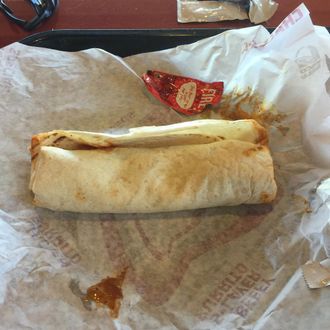 This is a photo illustration of what the evidence may have looked like.
Photo: Mark Fusco/CC/flickr
Police officers in Connecticut arrested two twentysomethings on Sunday for making bad choices after going to a KFC/Taco Bell. The intruders boarded a boat named the "Dolce Vita," which is basically Italian for YOLO, at a marina in Norwalk. The pair later told police, according to The Hour, that they had never "been on a boat, and had wanted to take some selfies." The boat they had picked, however, was already occupied by a sleeping family of five that quickly woke up when a flash started going off at 2 a.m. on Sunday. When a sleepy and likely perturbed person let the intruders know they could be stopped even though they were on a boat, they ran away, leaving behind a still-warm bag of food from a KFC/Taco Bell — and a receipt that had one of the intruders' information on it. 
At least two other crimes involving selfies or Taco Bell took place in the past week.