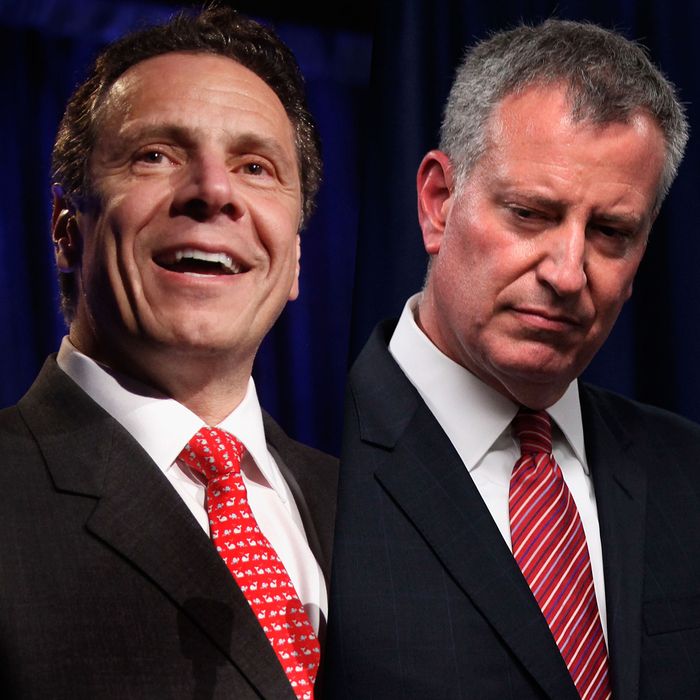 Photo: Thos Robinson/Getty Images; Spencer Platt/Getty Images
Here's the good news: There hasn't been a case of Legionnaires' disease diagnosed in the Bronx outbreak since August 3. And though the death total is now sadly up to 12, hundreds of cooling towers have been checked and scrubbed; the trend line in the sickness is headed downward.
That information won't dominate the headlines, though, because the other thing that's plunging — inexorably, it seems — is the relationship between Governor Andrew Cuomo and Mayor Bill de Blasio. It was difficult to imagine things improving after de Blasio's extended blast at Cuomo last month, in which the mayor accused the governor of extracting revenge on people who dared to disagree with Cuomo. But today brought a new low, if only because public health and not just political posturing was involved.
During overlapping press conferences — Cuomo in his midtown office, de Blasio down at City Hall — the two men managed to present possibly conflicting, and certainly confusing, information about just how many Bronx buildings had newly tested positive for Legionnaires'. Two, said de Blasio. Three, said Cuomo. The city's pair, it emerged, were inside the "impact zone." The state's trio were not — which de Blasio and the city health commissioner, Dr. Mary Bassett, seemed to suggest made them red herrings, medically. The governor said he was unaware of what the city was proposing to do to monitor cooling towers — as the mayor was laying out his plans.
"The politicians are not the issue here," de Blasio said. "When it comes to the health officials, they are perfectly coordinated." Well, sort of: Cuomo's health commissioner, Dr. David Zucker, received the state's positive results during the governor's press conference — and announced them publicly after leaving a phone message for Bassett, who was appearing at the City Hall briefing.
All this isn't good for anyone, especially the anxious residents of the South Bronx neighborhoods where 113 people have been infected since early July. De Blasio deserves some credit for not criticizing Cuomo today — though the mayor broadcast his irritation by avoiding speaking the governor's name for more than an hour. Cuomo may have scored some points by parachuting in and appearing to take charge of the Legionnaires' crisis  — though likening the outbreak to a "bad science-fiction movie" on NY1 last week wasn't exactly calming, and the governor would have made himself look even bigger by standing next to the mayor for a few minutes. These guys don't need to pretend to be pals again, but a show of bacteria-fighting unity wouldn't have killed them.