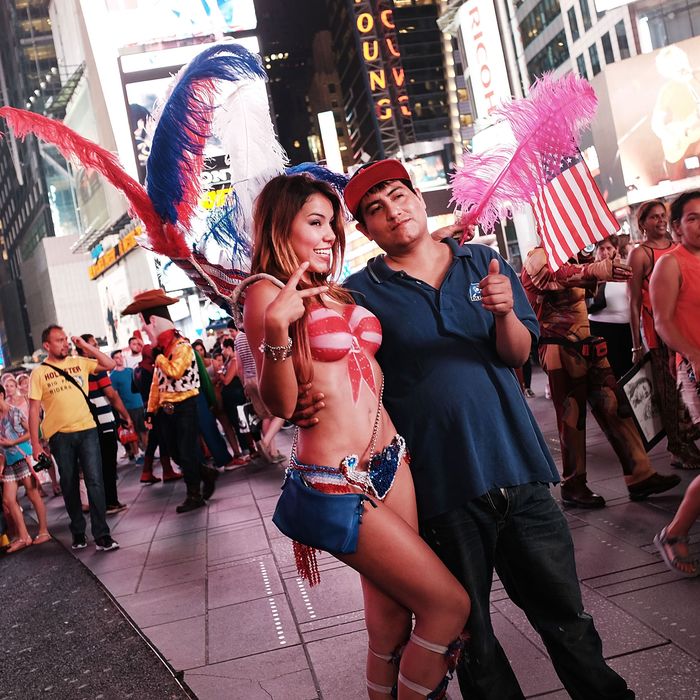 A semi-nude model poses for a photo in Times Square on August 19, 2015 in New York City.
Photo: Spencer Platt/Getty Images
Times Square's pedestrian plaza — that carless, table-filled stretch of Broadway in between 42nd and 47th streets — has been getting a lot of negative attention lately. It's not the plaza itself that's causing trouble, but its inhabitants — the sweaty Elmos, violent Spider-Men, and topless women who hustle cash from, and occasionally fight with, the tourists who flock to the neighborhood. On Thursday, Mayor de Blasio floated a surprising proposal for returning Times Square to its family-friendly glory: scrape the plaza altogether and allow vehicular traffic to flow through the heart of midtown once more.
From the New York Daily News:
"You could argue that those plazas have had some very positive impact," de Blasio said. "You could also argue that they've come with a lot of problems. And a lot of the surrounding business community has certainly cited those problems. So we'll give that a fresh look."

De Blasio said he's already discussed the idea with Police Commissioner Bill Bratton, the co-chair of the city's special task force charged with ridding the jiggly pests — as well as the overly aggressive costumed characters — from the Crossroads of the World.

"Now that's a very big endeavor and like every other option comes pros and cons," the mayor said. "So we're going to look at what those pros and cons would be."

Bratton sounded like he was ready to start tearing the plazas up now. "I'd prefer to just dig the whole thing up," Bratton was quoted as saying by CBS Local.
The $55 million plaza was erected in 2014 by former mayor Micheal Bloomberg, who said that it would make the area safer for walkers and bikers. If nothing else, the idea of turning back the clock on Times Square will certainly provide fodder for those who insist that de Blasio is plotting to welcome Travis Bickle and an army of squeegee men back to NYC.