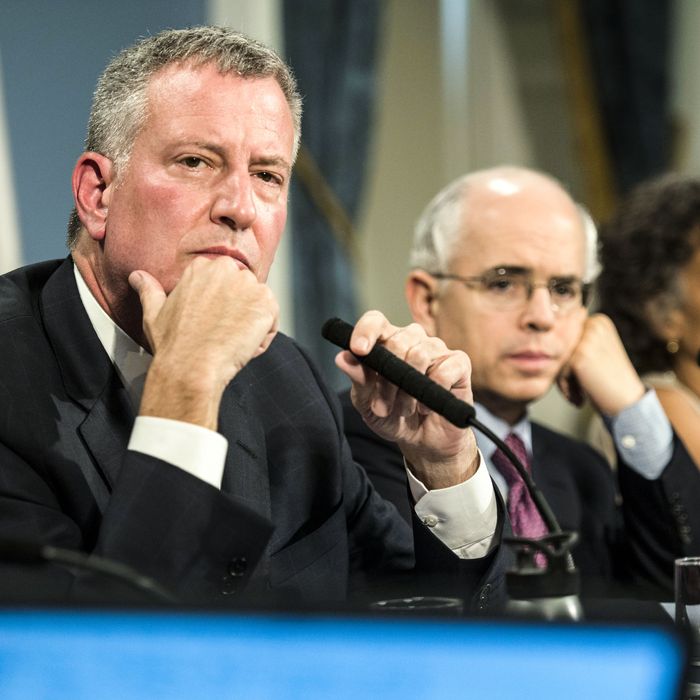 Mayor de Blasio hosts a roundtable discussion about the city's Legionnaires' outbreak.
Photo: Joe Marino/NY Daily News
Labor Day can't arrive fast enough for Bill de Blasio. The holiday weekend will mark, ceremonially, the end of a miserable summer for the mayor. It will also give de Blasio another chance to dance in the street, at the West Indian parade — and the mayor needs some upbeat optics as soon as possible.
De Blasio's rough stretch began with the frustrating end of the state legislative session, during which he was tortured by Governor Andrew Cuomo. Then came the Uber debacle, with the car-hail company dumping $4 million worth of negative ads on the mayor. Followed by a clumsy response to the seasonal increase in street homelessness. Followed by the city's worst outbreak of Legionnaires' disease. Followed by anemic public-school test scores.
The mayor's substantive troubles, though, have been compounded by stylistic and political blunders. De Blasio has appeared reactive and churlish even when getting many of the operational aspects right — as in the Bronx, where experts have mostly praised the administration's medical response to the deadly Legionnaires' episode. Last week cops and firefighters contained a violent standoff on Staten Island — but the mayor had to hail the heroes while dodging questions about why he monitored the confrontation from a gym in Brooklyn.
Two weeks ago de Blasio hit a new low in public polling, with just 44 percent of voters quizzed by Quinnipiac approving of the mayor's job performance. There were some good numbers in the poll for de Blasio, particularly among Democrats. What's alarming, however, is that the weak overall ratings came even as many of the city's vital signs remain strong — employment is up, and crime is still very low — suggesting that significant segments of the public don't believe de Blasio deserves credit. So I asked Democratic strategists, plus current and former City Hall insiders, how the mayor could change the momentum.
Acknowledge the problem. Publicly, de Blasio has shrugged off the suggestion that he is unpopular. "We have a government that is very effective, and people all over the city know we are trying to do things for everyday New Yorkers," he told the New York Times the other day. "I think there's a huge dichotomy between what's happening in the mainstream media and what people are feeling and understanding." City Hall insiders say, though, that the mayor and his staff understand that this bad stretch is not all the fault of de Blasio's enemies, and that perception can fast become political reality.
Stop blaming the media for bad press, and start selling more good news. In that same interview the mayor suggested the press had been soft on Mike Bloomberg and rough on him. "Those quotes were not helpful," a mayoral ally says. "He looked like he was whining."
True, de Blasio has taken a beating in the tabloids. But he has missed opportunities to cultivate friendlier coverage. "Bill de Blasio believes in working New Yorkers, he believes in immigrants' rights, and he hates the New York Post," a Democratic strategist says. "Guess who is with him on all three of those issues? The Daily News! He should be going to Mort Zuckerman's house for drinks. Instead, Chirlane McCray is on Twitter calling the News liars!"
The mayor needs to be more creative and persistent in telling his own story, or the silly stuff fills the void. "The public doesn't know all the great things a mayor is doing unless the mayor is telling them," a Democratic operative says. "They're not marketing their successes. Small-business fines are lower than ever. Fantastic story — but they did a press release. The mayor should have gone out to a shop in Queens — or even better, done an outer-borough small-business tour. And use social media to show you're managing the city — tweet out photos of the mayor dealing with something at midnight."
Dial down the national progressive push. De Blasio remains committed to hosting a progressive presidential forum this fall. After that, though, he should quickly and gracefully find a way to end his endorsement coyness, and focus on running the city. Yet a strategist who knows de Blasio well isn't optimistic: "The national progressive stuff is a classic Bill avoidance tactic — it's more fun and exciting than worrying about the 30,000 calls that came into your office complaining about homelessness."
Come up with an effective state progressive challenge to Cuomo or sue for peace. It sure must have felt good for de Blasio to vent, in late June, accusing the governor of carrying out vendettas and seeking revenge. Well, Cuomo has done nothing but make life more miserable for the mayor since then, and he's been peeling off pieces of de Blasio's liberal support structure.
Get out on the street — and not just in Park Slope. When he was running for mayor in 2013, de Blasio told me that if he won he would model himself after John Lindsay or Ed Koch, walking the streets and listening to people in coffee shops. "He talks with people all the time on the subway," a mayoral adviser insists. Yet he has allowed himself to get stuck behind podiums too often, particularly in adversarial press conferences.
Impromptu appearances won't speed the construction of low-income housing or clarify the mayor's murky plan to fix failing schools. But Bill de Blasio comes across best in small groups, and he'd at least earn more goodwill by showing up in Jackson Heights than he has by speechifying in Des Moines.