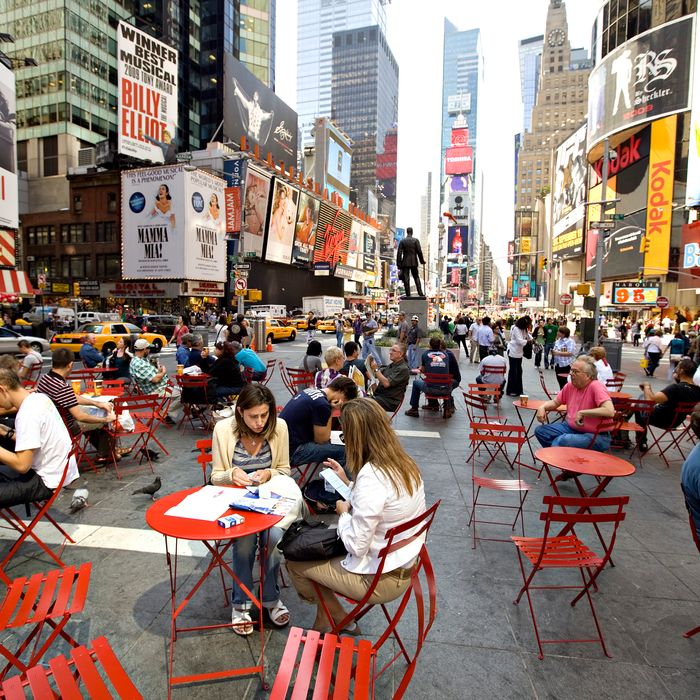 People sit at tables in Times Square on September 3, 2009.
Photo: Daniel Acker/Bloomberg via Getty Images
Frustrated by a Times Square clogged with aggressive street performers, renegade Elmos, and women in body paint who offer to pose with tourists for authentic New York City selfies, Mayor Bill de Blasio has drifted back to a solution he floated during the campaign season — rip out the pedestrian plazas. His plan — one of several being considered by a new Times Square livability task force — would clear out the undesirables by also evicting everyone who happens to be lounging or strolling or snapping photos. Instead, it would return the bow tie to its old denizens: cars. Because what could be more wholesome, more progressive, indeed more transcendent, to use the mayor's favorite form of self-praise, than to favor carbon monoxide over irritating hucksters? The strategy has the added benefit of tossing a spadeful of dirt on the legacy of his predecessor Michael Bloomberg.
De Blasio has wisely made Vision Zero, the philosophy that views all traffic-related deaths as preventable, a centerpiece of his administration. His Department of Transportation commissioner Polly Trottenberg has built on the visionary work of her predecessor Janette Sadik-Khan, who created the Times Square plazas. De Blasio's DOT has redesigned streets and rationalized intersections to make them safer, continued creating bike lanes, and installed new pedestrian plazas. Yet the mayor has suggested undoing the most visible part of that program — and, in the process, ripping up the $27 million repaving project that was supposed to make the plaza permanent.
I understand that the mayor doesn't care for the carnival atmosphere at Times Square — neither do I. But eradicating a pedestrian plaza because you don't like who's walking there is like blasting away a beach because you object to bikinis or paving a park because you hate squirrels. It represents such a profound misunderstanding of public space that it makes me question the mayor's perception of what counts as progressive. Yes, Times Square is congested, tacky, and annoying. Most street performers are protected by the First Amendment, so you can't simply force them to leave. Harassment isn't made more fun — or more legal — by a furry, primary-colored costume. These are stubborn facts, and the best way of dealing with them is to grant permits for street performers the way the city regulates vendors. Granted, that's time-consuming and not always effective, but solving a current problem by reverting to an old one is, at best, a cop-out.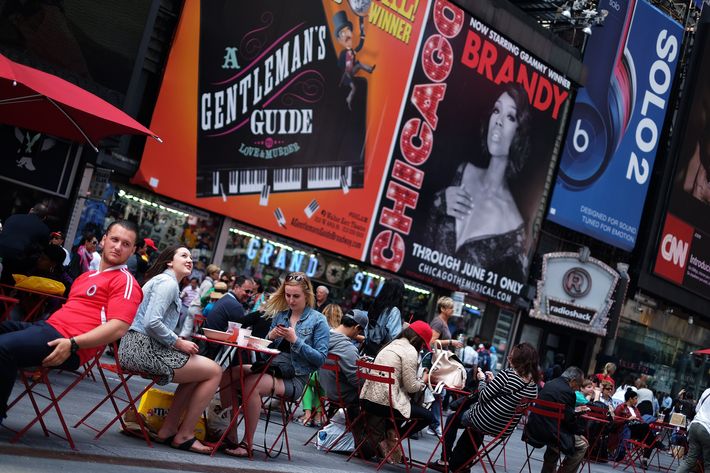 Giving up on a pedestrian Times Square would represent a worrisome failure of leadership, reminiscent of a time when 42nd Street had far more desperate problems than a few women with the Stars and Stripes painted on their chests. Nearly 40 years ago, Bryant Park was so unlivable that the demoralized community chairman suggested that the only way to disinfect it of crime might be to close it completely. Eventually, steadier hands rescued and reinvented the park.
If de Blasio really believes that the best way to deal with street performers in Times Square is to tear up the pedestrian plaza, may I suggest he try reducing homelessness by eradicating doorways and subway grates?