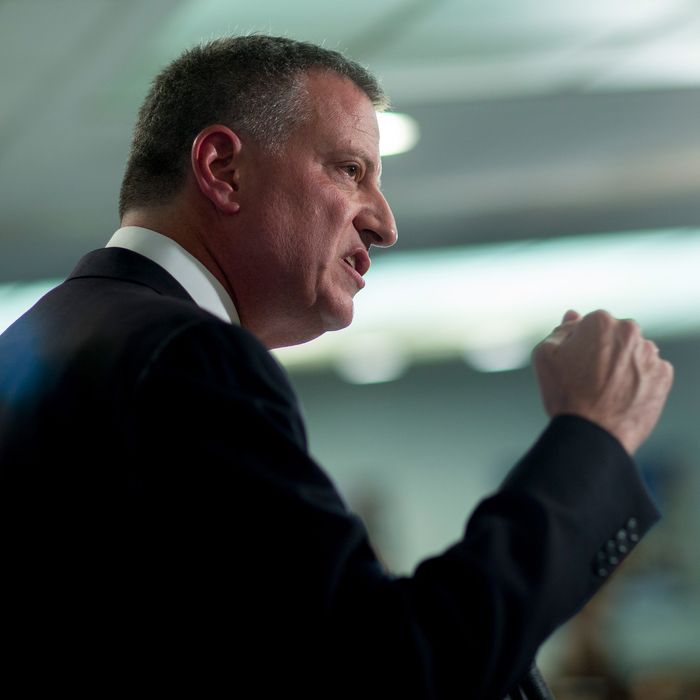 Photo: Andrew Harrer/Bloomberg via Getty Images
In 1989, Mayor David Dinkins belatedly sent cops and bulldozers into Tompkins Square Park to tear down a fetid homeless encampment. Bill de Blasio was a junior aide to Dinkins in those days; he's mayor now, of course — and confronting his very own homeless headache.
Yesterday de Blasio announced a $22 million initiative to add caseworkers at homeless shelters and outreach teams to work with mentally ill people on the city's streets, and elsewhere. The program will also focus on people with a history of violence, whether they're homeless or not. 
It's a good step in tackling a chronically difficult issue. But it comes after two months in which de Blasio has been hammered on homelessness, a problem of both substance and optics that has helped erode de Blasio's poll numbers.
In early July, the New York Post ran a front-page photo of a 49-year-old homeless man named John Tucker urinating in the middle of Broadway on the Upper West Side, and declared that de Blasio had "pissed away" two decades of the city's quality-of-life gains.
The mayor at first tried to shoot the messenger. "With all due respect to your publication — which is well-known for fearmongering — let's look at the facts," de Blasio said to a Post reporter at a press conference two days later. "We have had a reduction in crime and we've had a reduction in street homelessness. And we are going to deal with problems related to mental health much more aggressively."
Many advocates blame the Bloomberg administration's policies for the spike in homelessness that the de Blasio administration inherited. They also credit the current mayor for chipping away at the numbers: From a record peak of more than 60,000 living in shelters in December 2014, to about 58,000 now, according to a count by the Coalition for the Homeless, with most of the progress made by placing families in their own apartments, largely through an increase in city rent subsidies.
Yet even experts who are sympathetic to the mayor fault de Blasio's slow pace — both in moving people out of shelters, and in recognizing his potential vulnerability to a perceived rise in street homelessness during the summer. "We've been telling him since last year that this could be a political problem," a longtime homeless-policy executive says. "They've tackled some other significant things, like repairing the structural deterioration in shelters. And they've got good people in the important jobs, like [deputy mayor for human services] Lilliam Barrios-Paoli and [human resources commissioner] Steve Banks. But it's taken them a long time to focus on the street."
No one claims the problems driving homelessness are easy to fix. They've vexed mayors since the '70s, when many New York psychiatric patients were deinstitutionalized, and they've worsened as city real-estate prices have soared.
As on other income inequality fronts, De Blasio's rhetoric and agenda have targeted worthwhile big-picture issues. But because improvement is often glacial and needs funding or legislative help from the feds or the state, the mayor's list of deliverable achievements is shorter than he'd like. Meanwhile, he too often ends up looking fitful and reactive in his handling of the city's day-to-day problems, giving his enemies more ammunition.
Another article in the Post's recent return-of-the-bad-old-days series highlighted homeless people sleeping in Tompkins Square Park. The next week — and one day after a Post reporter pretending to be homeless tried to panhandle outside Gracie Mansion — de Blasio did something curious: He made an unannounced visit to the park, and talked to some of its regulars. It was a choice that seemed both compassionate and defensive. Whether it also shows that de Blasio has learned from Dinkins's homeless debacle remains to be seen.