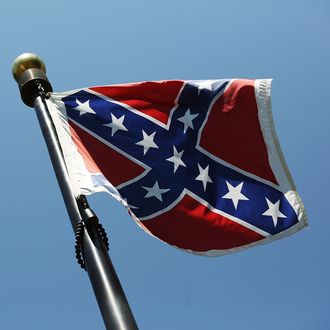 A Confederate flying on the South Carolina Capitol grounds.
Photo: Joe Raedle/Getty Images
A dead man was found on a bench under a Confederate memorial in Pensacola, Florida, on Sunday morning, the Daily News reports. Police have not identified the man and are awaiting autopsy results. A witness told the Pensacola News Journal that, while doing yard work on Sunday morning, he saw two men fighting, and one appeared to be chasing the other with a brick. It's unclear if the death is related to that dispute or another recent incident at the monument. Nine days ago, the words "Confed lives don't matter" were spray-painted on the memorial in Lee Square, which is named for General Robert E. Lee. A number of black churches and Confederate memorials have been vandalized following the mass shooting at Emanuel AME Church in Charleston, South Carolina, in June.