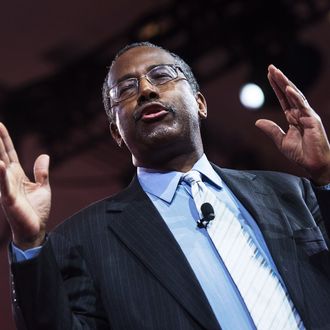 Photo: Nicholas Kamm/AFP/Getty Images
According to the first national poll commissioned by Fox News since the Republican debate two weeks ago, Ben Carson has received the most significant bump in support, jumping five points in the standings from the Fox News poll right before the debate — by far the most dramatic uptick of any GOP candidate.
Unsurprisingly at this point, Donald Trump's front-runner status remains essentially unchanged in the results, even though a majority of the more than 1,000 respondents considered him the least likable candidate and thought he did the worst in the debate, perhaps suggesting that, as the field narrows, the anti-Trump vote may ultimately crystallize in favor of other individual candidates.
Meanwhile, Ted Cruz's support also picked up, while Jeb Bush suffered the biggest drop. And while all of the this-is-only-one-poll caveats apply, last week FiveThirtyEight's Harry Enten agreed that Carson and Cruz were enjoying bumps after looking at seven post-debate polls, and that Bush was clearly worse off. In addition, both Enten and the Fox News poll show that Carly Fiorina was the definitive winner of the pre-debate debate, as her standing has improved in all polls over the past two weeks.