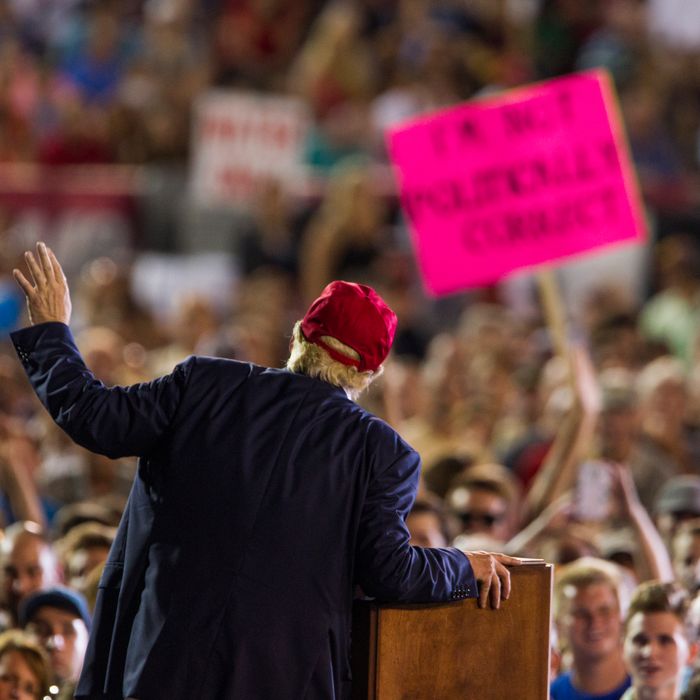 Photo: Mark Wallheiser/Getty Images
In Mobile, Alabama, last night, GOP front-runner Donald Trump held one of the biggest campaign rallies by any presidential candidate yet this year, and by far the biggest by any Republican candidate. Depending on who was counting, between 20,000 to 30,000 people (but fewer than the near 40,000 the Trump campaign had predicted) half-filled the University of Southern Alabama's Ladd-Peebles Stadium just days after the venue had been selected. Why did Trump visit Alabama and not one of the earlier primary states? Because the state is part of the so-called "SEC primary" on March 1, in which five Deep South states will vote in what could be one of the most decisive days of the GOP primary battle. As an added bonus, Mobile's Gulf Coast location was a good spot to draw supporters from nearby Tallahassee and New Orleans as well, and as the Washington Post's Philip Bump notes, the big event was surely intended to brandish Trump's red-state appeal. Hot Air blogger Allahpundit adds, regarding the SEC primary:
The southern primaries will be even more important as a winnowing device if Iowa, New Hampshire, and South Carolina split two or three different ways. Imagine if Walker, Trump, and Cruz each win one of those; the SEC will effectively decide who the "real" frontrunner is. The danger here for establishmentarians is that there are so many social-con candidates hoping to make a splash on March 1st that they could carve up the right-wing vote among them, leaving the leading moderate with a clear path to victory. A few months ago, with Jeb Bush best positioned to be that moderate, that seemed like a sweet deal for the donor class. Now, with Trump having leaped past Jeb, it's a disaster in the making for them.
Allahpundit also points out that "whoever emerges [victorious on March 1] might well end up with the most delegates at the convention, even without a clear majority, and since he'd be the choice of the region that represents the party's base, he'd have an extra claim for why he should be the nominee." Trump's Alabama rally is thus more evidence that, as New York's Gabriel Sherman highlighted yesterday, the billionaire finally has, and is now executing, a long-term campaign strategy. As Trump told the crowd last night, "I would like to have the election tomorrow. I don't want to wait."
Of course, nobody was happier with the large turnout in Mobile last night than the candidate himself, who, as is his way, regaled his supporters with a ranging, rambling speech for more than a hour, reiterating his various talking points from punting "anchor babies" and lamenting Obama to bashing Jeb Bush. "Now I know how the great Billy Graham felt," Trump said to the crowd, referring to the stadium-filling, mega-evangelist preacher. Trump tried to burnish his Bible Belt credibility as well, telling the crowd that the only book better than his own, The Art of the Deal, was the Bible. Regarding that statement, the Daily Beast's Olivia Nuzzi quips:
This is Trump's way of assuring Southern voters that he is, if not a man of God, at least someone who respects God's branding—because for Trump to concede that anybody, divine or otherwise, produced a better product than he did, he has to think at least as highly of them as he thinks himself. And that's as good as evangelicals are going to get from him. 
Elsewhere in the televised speech, Trump was his usual variety-prone self, whether it was talking about how fast the 14th Amendment could be changed, how billionaire businessman Carl Icahn was going to take over U.S. trade negotiations with Asia, or announcing that cookie purveyor Nabisco was moving its factory to Mexico (which he called the "new China"), and then promising the crowd, "I LOVE OREOS, [but] I'll never eat them again." Prompted by an audience member to weigh in on Israel, Trump professed his "loooooooove" for it as well, at one point also calling John Kerry's broken leg the only good part of the Iran deal. Commenting on current U.S. leadership, Trump repeated "We have dummies" three times, though Alabama senator Jeff Sessions was apparently not one of them, since he briefly joined Trump onstage. (Sessions's anti-immigration plan has now been fully adopted by Trump and thus promoted to center stage in the GOP primary conversation.)
There were also four aircraft-related moments at the rally. Before Trump's arrival, as some fans had waited more than half a day for the candidate to appear, separate aircraft messages advertised support for Jeb Bush and shrimp, respectively. According to Politico, a plane dragging the message "Trump 4 higher taxes. Jeb 4 prez" made several passes over the stadium, as well as another pushing local shrimp baskets. Later, echoing Trump's helicopter flyover earlier this month at the Iowa State Fair, a loudspeaker announcement instructed the crowd to "please focus your attention to the eastern sky for the arrival in Mobile, Alabama, of the next president of the United States, Donald J. Trump," and Trump's jet then appeared and circled the stadium to cheers. Later, during Trump's speech, the candidate, perhaps the most satisfied rich person in America, became distracted by an overhead jet and joked that someone must have just stolen his private plane.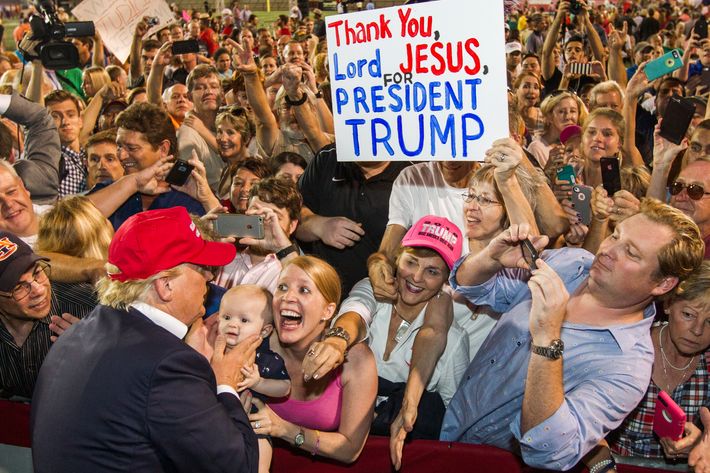 Looking at the quotes collected from Trump supporters at the event by various news outlets, it was clearly tea-party central, with many championing Trump's anti-Establishment bombast, but the candidate's vehement anti-immigrant stance brought out some unsavory types as well. Among the mostly white audience, one 73-year-old attendee told the Associated Press that Trump was a "breath of fresh air" who reminded him of Alabama's segregationist governor George Wallace, since "Donald Trump is telling the truth and people don't always like that." Another fan told the New York Times he hoped President Trump would let people shoot immigrants at the border for sport (and cash).
"I'm not married to the man," said one female supporter who wasn't concerned about Trump's previous statements regarding women, "and it's not like I'm going to have to sit across a turkey at the table with him." And another woman who traveled from California for the event remarked to the Times that she wasn't worried about Trump's political inexperience either, insisting that "when [Trump] gets in [the White House], he'll figure it out … So we do have to trust him, but he has something that we can trust in. We can look at the Trump brand, we can look at what he's done, and we can say that's how he's done everything."
Trump definitely agreed, assuring the crowd, "I'm going to make this country bigger and smarter and better and you're gonna love it! And you're gonna love your president!"