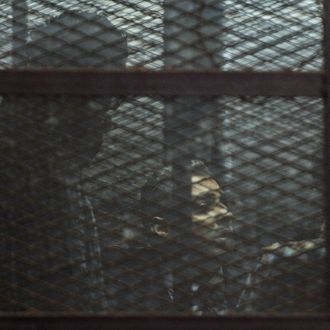 Photo: Khaled Desouki/AFP/Getty Images
An Egyptian court today sentenced three Al Jazeera journalists to three years in prison after finding them guilty on a variety of questionable charges, all stemming from the aftermath of the 2013 military coup deposing former Egyptian president Mohammed Morsi. According to the Associated Press, the journalists, Australian Peter Greste, Canadian Mohammed Fahmy, and Egyptian Baher Mohammed, were convicted "because they had not registered with the country's journalist syndicate[, had] brought in equipment without security officials' approval, had broadcast 'false news' on Al-Jazeera and used a hotel as a broadcasting point without permission." They had originally been arrested in December 2013.
The verdict was the result of a second trial of the trio, which, like the first trial concluded last year, was widely considered to be a sham in the midst of the military government's crackdown on political opponents, press freedoms, and civil liberties. There had been optimism among the trio and their supporters that they would instead be exonerated or sentenced to time already served, but instead Fahmy and Mohammed were convicted and taken away by police following the verdict, and now it's not clear what will happen next for the men. Greste, the Australian, was not present for the ruling, as he was deported by Egypt in February. Fahmy and Mohammed were freed on bail around the same time, at which point the trio had already spent more than a year in prison.
Said human-rights lawyer Amal Clooney, who is representing Fahmy, of the ruling, "The verdict today sends a very dangerous message in Egypt. It sends a message that journalists can be locked up for simply doing their job, for telling the truth and reporting the news. And it sends a dangerous message that there are judges in Egypt who will allow their courts to become instruments of political repression and propaganda."