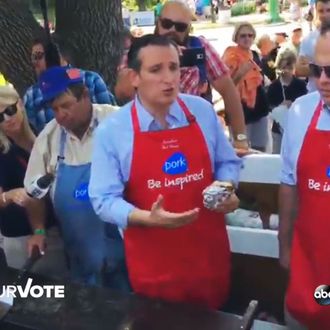 Texas senator Ted Cruz was grilling pork chops at the Iowa State Fair today when a young woman in sunglasses and a hat walked up to him to ask about LGBT discrimination. A reporter asked him afterward if the Republican presidential candidate had known he was talking to actress Ellen Page — Cruz said he didn't. 
"What about the question about LGBT people being fired for being gay-trans?" Page asked him. Cruz, unsurprisingly answered by pivoting the discussion toward religious liberties, a topic he is far more comfortable talking about. "Well, what we're seeing right now, we're seeing Bible-believing Christians being persecuted for living according to their faith," he said, adding that he believes marriage can only exist between one man and one woman.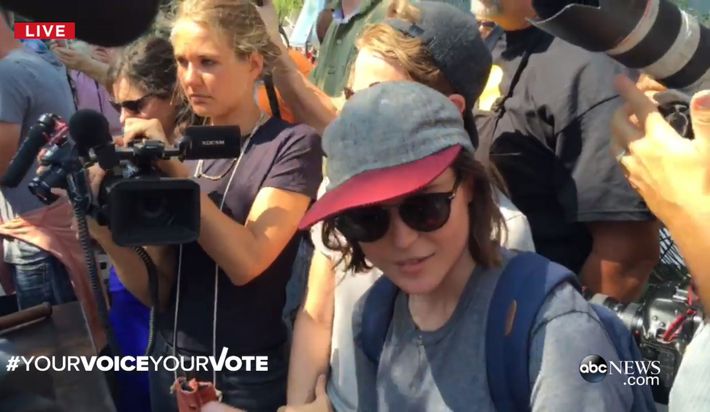 "No one has the right to force someone else to abandon their faith and their conscience. Imagine, hypothetically, you had a gay florist and imagine two evangelicals wanted to get married and they decide, 'You know what, I disagree with your faith and I don't want to provide flowers.'" Cruz then moved the discussion even further away from Page's original question about "the persecution of gays in the workplace."
"ISIS is executing gay people. Iran is executing homosexuals." Page responded, "Yeah, that's a whole other thing." 
The conversation ended with a particularly Cruzian flourish; the former college debater announced that Page had conceded he was right about something. He asked her why the Obama administration is not doing more to fight ISIS; she responded, "I don't know, I would love to speak with Obama about it." 
"Well, great, then we're agreed on that," he said, ending the discussion and returning to tend to his passel of pork chops. 
"Cruz and Page, both Canadian-born, spoke for over five minutes," ABC News noted in its write-up of the moment, a sentence that sums up the only thing that Cruz and Page have in common — and could also serve as a writing prompt for anyone hoping to write a comedic screenplay about this moment. 
Page quickly left the grill; according to ABC News, she is in Iowa for a project with Vice. The 28-year-old actress came out as gay last year in a speech at a Human Rights Campaign conference. "I'm here today because I am gay," she said. "And because … maybe I can make a difference. To help others have an easier and more hopeful time."
Page has conveyed displeasure with Cruz's political views before, although it doesn't seem like she's ever been able to deliver her opinion in person.