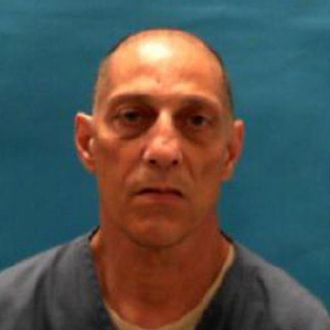 His crime: Wanting to wear clothes from Abercrombie & Fitch.
Photo: Florida Department of Corrections
An escaped prisoner from Florida, who had been on the run for 17 days, was caught by the NYPD last week after he unsuccessfully tried to steal from an Abercrombie & Fitch in New York City.
It was not clear why 53-year-old Philip Peletz was so desperate for the more than $1,400-worth of merchandise he was caught trying to pilfer on August 21, or if he thought that dressing like James Van Der Beek or Devon Sawa would help him blend in up north. Based on his record, however, it was probably inevitable that Peretz's prison break would end near a pile of pricey polos.
Peletz escaped from a work detail on August 4; he was allowed to go on work detail despite telling fellow inmates that he really wanted to escape from prison. He was serving a five-year sentence for various thefts. He has been convicted of more than 30 felonies and misdemeanors in Pennsylvania and Florida, mostly for stealing. In 1997, he was imprisoned for five months after being wrongly accused of stealing 15 pairs of gym shorts at a mall in Easton. "I'm not going to risk prison again," Peletz told a newspaper at the time. "I know it's wrong now. That's why I quit that business."
Peletz — who was supposed to be released from prison in 2018 and is currently being held at a jail in New York City as an out-of-state fugitive — will likely need to serve additional years after going on an unauthorized vacation from prison and not even getting a lousy T-shirt to bring back.