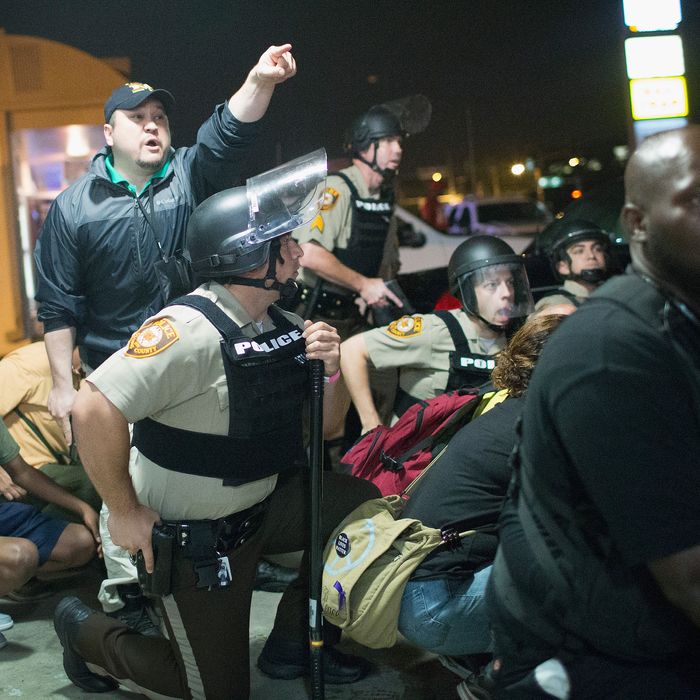 Police take cover as a barrage of gunfire erupts along West Florissant Street on August 9, 2015, in Ferguson, Missouri.
Photo: Scott Olson/Getty Images
After a day of peaceful demonstrations to commemorate the first anniversary of 18-year-old Michael Brown's death, a man accused of firing at officers was shot by police on Sunday night in Ferguson, Missouri.
Shots rang out at around 11:15 p.m. as police tried to disperse about a hundred protesters lingering in the street, some of whom were smashing windows and blocking traffic. 
At an early-morning press conference, Police Chief Jon Belmar said the man, approximately 20 years old, was shot by plainclothes detectives after he fired at an unmarked police SUV. The SUV drove toward the man after he was involved in a different exchange of gunfire, and he reportedly shot at the vehicle with a stolen 9mm Sig Sauer.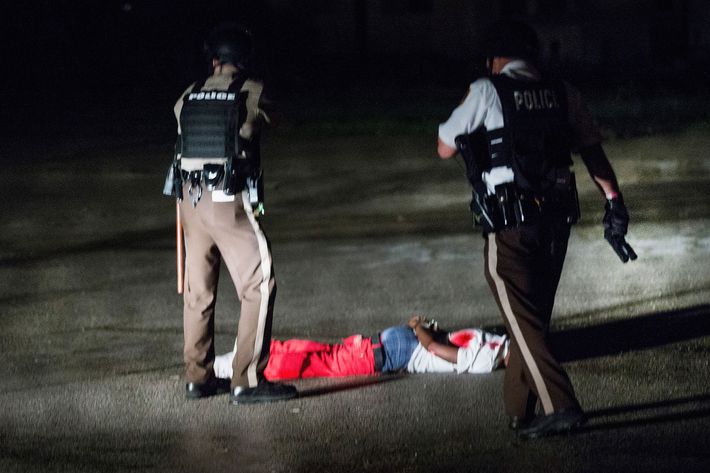 The victim is in the hospital in critical, unstable condition. The authorities have not identified him, but the St. Louis Post-Dispatch reported that Tyrone Harris Sr. said the young man was his son, 18-year-old Tyrone Harris Jr. The elder Harris said his son had graduated from Normandy High School and had been friends with Michael Brown. Harris also told local news station KMOV that his son was "running away from the situation, and police ended up shooting him," and that he thought the victim had been in "the wrong place at the wrong time."
The four officers, who were not wearing body cameras, will be placed on administrative leave pending an investigation. They were not injured, although Belmar said, "I can tell you that it was a remarkable amount of gunfire," estimating that around 40 bullets were shot in under a minute. 
Belmar said the shooters were "criminals, they weren't protesters. Protesters were out there trying to effect change. We can't afford to have this kind of violence, not only on a night like this, but any point in time if we're going to move forward in the right direction."
Describing the scene, an Associated Press photographer saw a man lying facedown, covered in blood, on the street behind a boarded-up restaurant. An AP reporter later saw a grief-stricken woman screaming, "Why did they do it?" and a man nearby said, "They killed my brother."
St. Louis alderman Antonio French told the Washington Post that there was some looting and violence before the shooting, and a St. Louis Post-Dispatch reporter was beaten and robbed. French heard a few distant shots, then suddenly there were "gunshots everywhere," and he took cover behind a car. This video shows demonstrators scrambling to avoid gunfire:
French told the New York Times, "It's sad and disappointing. You have some people here who use the cover of this anniversary to commit some violent acts. To see violence happen on this day in this city is really disappointing."
Reporters on the scene say police fired tear gas or smoke bombs to disperse protesters. At 2:15 a.m., shortly before the press conference, two teenagers were shot in a drive-by shooting near the Michael Brown memorial. 
Earlier in the day, hundreds of protesters marched through the hot and humid streets of Ferguson to the Greater St. Mark Family Church for a memorial service for Brown. Michael Brown's family attended, as did Eric Garner's daughter and Bree Newsome, the woman who climbed up a flag pole at the South Carolina State Capitol to take down the Confederate flag.
There were other protests in cities around the world on Sunday. In Brooklyn, protesters gathered near the Barclays Center; demonstrations were also planned in Waller County, Texas — where Sandra Bland died — London, and Philadelphia.
This post has been updated throughout.