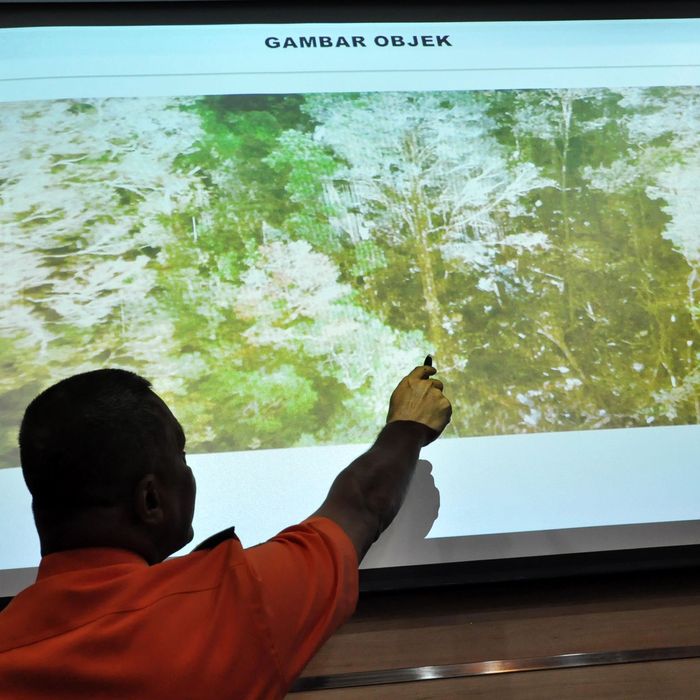 The suspected crash site of a Trigana Air ATR 42.
Photo: Wawan Kurniawan/Anadolu Agency/Getty Images
Search-and-rescue crews are working to reach a remote spot in Papua, Indonesia, where a commercial aircraft carrying 49 passengers and five crew members crashed on Sunday afternoon. The plane, which was operated by Trigana Air Service, reportedly lost contact with air traffic control a half hour after departing from Papua's provincial capital, Jayapura, en route to Oksibil. Indonesia's National Search and Rescue Agency (BASARNAS) told reporters that everyone aboard was an Indonesian national.
A BASARNAS aircraft has spotted wreckage believed to be from the Trigana ATR 42-300 in the Bintang Mountains, but the area's thick forest has slowed the arrival of rescuers. "Because of the remote location of the area, we have not yet been able to reach it. Even local people have never been to this location," explained BASARNAS's deputy director of operations, Heronimus Guru.
The plane was carrying roughly $470,000 in government aid money intended for impoverished villagers in Papua. NBC News reports that, "There was no suggestion that the large sum of money being transported on the plane was linked to its crash." According to officials, it's still too early to determine the cause of the wreck.