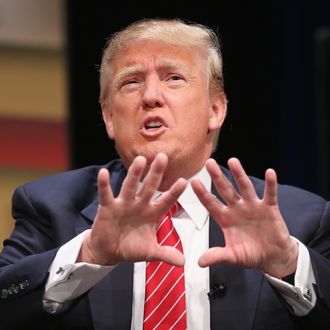 He's #1.
Photo: Scott Olson/Getty Images
Fox News just announced the ten Republicans who will appear in the first big debate of the 2016 presidential primary season. 
Donald Trump, who is currently leading the polls, will be at center stage, flanked by Jeb Bush and Scott Walker. Mike Huckabee, Ben Carson, Ted Cruz, Marco Rubio, and Rand Paul, as expected, will join them. New Jersey governor Chris Christie and Ohio governor John Kasich just made the cut (since the debate is in Cleveland, it would have been pretty sad if Kasich had to watch from the audience). 
Rick Perry did not.
He gets the runner-up prize of being at the center of the second-tier forum, where he will get the chance to discuss the issues with other candidates who have not had much luck getting more than one percent support in the polls and who would probably need a miracle to become president — Rick Santorum, Bobby Jindal, Carly Fiorina, Lindsey Graham, George Pataki, and Jim Gilmore. 
On the other hand, they will not have to debate Donald Trump. 
The top ten candidates were chosen based on an average of five recent national primary polls. Because the candidate pool is so large, however, the difference in support between most of the candidates is not terribly big. 
The main debate will happen at 9 p.m. on Fox News this Thursday; the forum will be at 5 p.m.