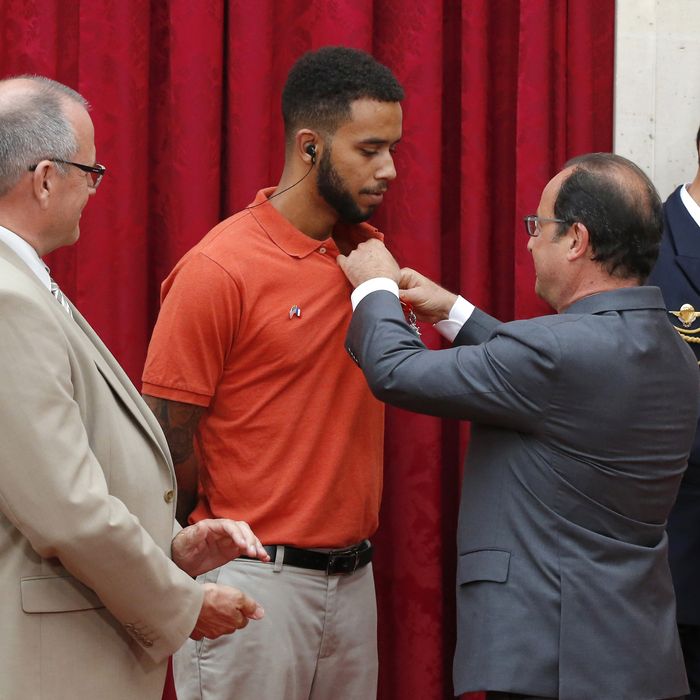 French President Francois Hollande awards off-duty US serviceman Anthony Sadler and British business consultant Chris Norman with France's Legion d'Honneur medal on August 24, 2015 in Paris.
Photo: MICHEL EULER/AFP/Getty Images
The three American heroes who wound up foiling a likely terrorist attack during their first trip to Europe will go home with the Legion d'honneur, France's highest honor. French president François Hollande presented the award to Americans Anthony Sadler, Spencer Stone, Alek Skarlatos, as well as Briton Chris Norman, at Élysée Palace on Monday, two days after they subdued an armed man on a train headed from Amsterdam to Paris. "Three friends, discovering Europe — heading to Paris," Hollande said. "Three Americans and one Englishman … you risked your lives to defend an ideal, the ideal of liberty and freedom."
Stone said a French man who was the first to try to disarm the gunman "deserves a lot of the credit." He has yet to be publicly identified, and will be honored at a later date.
Hollande called the attack an act of terrorism, telling the men, "Faced with the evil called terrorism there is a good, that's humanity. You are the incarnation of that." However, a lawyer for the suspect, 26-year-old Ayoub el Khazzaniof Morocco, claims that he only intended to rob people on the train because he was hungry. "It doesn't take eight magazines to rob a train," countered Skarlatos, a National Guardsman. "The guy had a lot of ammo. His intentions seemed pretty clear."